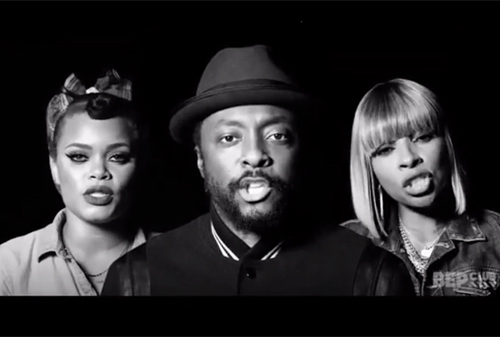 Thirteen years after the original, the Black Eyed Peas call for peace, love, and unity once again with the all-star version of their 2003 single, "Where Is The Love?"
The 2016 edition features BEP stars will.i.am, Fergie, apl.de.ap, and Taboo, but it also includes many of their famous friends such as Diddy, Mary J. Blige, Jamie Foxx, Nicole Scherzinger, The Game, Snoop Dogg, Jessie J, Andra Day, Tori Kelly, Ty Dolla $ign, Usher, DJ Khaled, Jhené Aiko (and her daughter), Wiz Khalifa, LL Cool J, Usher, and Justin Timberlake, who appeared on the original as well.
The powerful black-and-white video stars the aforementioned artists, plus Kendall Jenner, Rosario Dawson, Alton Sterling's wife, Philando Castile's mother, children all over the world, religious leaders, and police offers.
"Overseas, yeah, they're tryna stop terrorism / Over here, on the streets, the police shoot the people, put the bullets in 'em," raps Diddy, while Khaled proclaims, "Love is the key!"
Inspired by recent tragedies, the Peas decided it was time to revive the track for a new generation. "Millennials are powerful," said will. "I don't think they realize just how powerful they are…I hope this song inspires the millennials to go all out, scream from the tallest mountain, care like your freedom depends on it. Pay attention like that is at risk."
All proceeds from the sale of the song on Apple Music will be donated to charity. Check out the video below.
Pick up the song and video on iTunes here. See www.wheresthelove.com for the full list of credits, volunteer contributors and officially aligned charities.