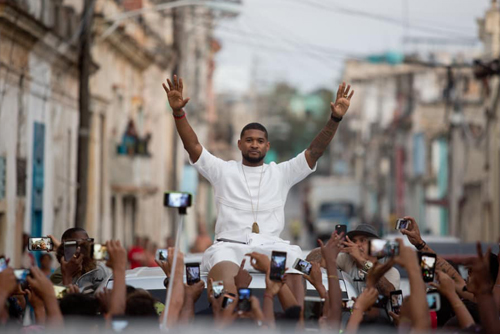 Fans that closely follow Usher on social media will probably recall his recent trip to Cuba, but what you may not know is that Complex traveled out there with him and filmed a short documentary piece on his visit, all prior to the release of his brand new album Hard II Love.
This visit had a political agenda; Usher was part of a 33-person cultural delegation sent on the heels of the U.S. lifting travel and trade embargoes earlier this year. Complex News' Nadeska Alexis joined the R&B superstar in Havana (this was actually his second visit to Cuba) while he took in their culture, which included a massive cypher with fans on the street in the community of Regla.
Grabbing a mic, he addresses the people, "Hola, Cuba!" he half talks, half sings. He then launches into his Young Thug-assisted single "No Limit" followed by a medley of his classic hits.
"That made me feel like a kid again," Usher says later. "When I was a kid, we got in a cypher and battled each other lyrically. We told jokes and made the hottest dance moves. That's what's still here."
Outside of his trip, Usher also revealed to Complex in a later interview about Hard II Love, that he did in fact record a song with Drake for the album, which is called "Slow Motion," however he felt that it didn't sonically sync with the rest of the project so he took it off. "This album has a very specific tone," explains Usher, "but I would love to work with him [again]. I really respect his writing. You should, at some point though, get a song from Usher and Drake."
Additionally, Complex spent time with the singer in NYC for some footwear talk as part of their "Sneaker Shopping" series. Complex's Joe La Puma took Ursh to buzzing NYC brand KITH where they had their NoHo location all to themselves for some shopping and discussion on sneaker culture today. Usher spoke about creating his custom gold Jordan's, performing at Michael Jordan's wedding, the recent rise of Adidas using artist's instead of only athletes, and more.
Check out both videos below.