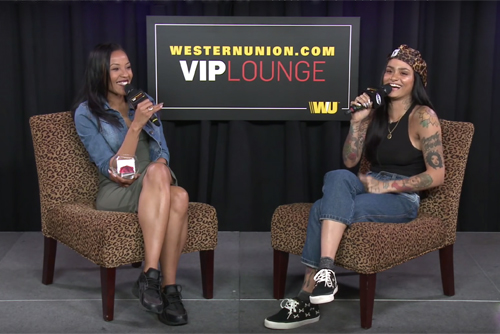 Kehlani is back in the Bay, and she stopped by her hometown station 106KMEL for an in-depth & intimate interview with Shay Diddy.
In her first sit-down interview since going through her hospitalization and public break-up with Kyrie Irving, the 21-year-old songstress opened up about what she went through in the past couple of months and her battle with depression, acknowledging that she's in a much better place now.
With her Suicide Squad single "Gangsta" hitting the Top 40 and "CRZY" steadily climbing up the charts, Kehlani is prepping for the release of her much-anticipated debut album, which is currently being abbreviated as 'SSS'.
According to Lani Tsunami, the project will feature her most well-rounded work to date.
"On my first mixtape [Cloud 19], I was really focused on how it sounded sonically," she said. "I wasn't trying to just write, write, write… On the second one [You Should Be Here], I was trying to write, write, write… and I wasn't focused too much on how it sounded. I wasn't focused on making sure it sounded full…This one, I really took my time like, 'Every song, I not only have to write really intensely, but I have to make sure that I push myself to get the sonics correctly."
Currently, 'SSS' has no release date and its full name remains a mystery. "I don't want it to get played out," she said of the secrecy. "I'm gonna definitely give the title closer to when I actually drop it."
During the chat she also shared her excitement about opening up for her idol Lauryn Hill in Oakland next month, and also spoke about the #BlackLivesMatter movement, as well as her thoughts and stance on the Colin Kaepernick National Anthem protest.
Watch Lani's full interview below.