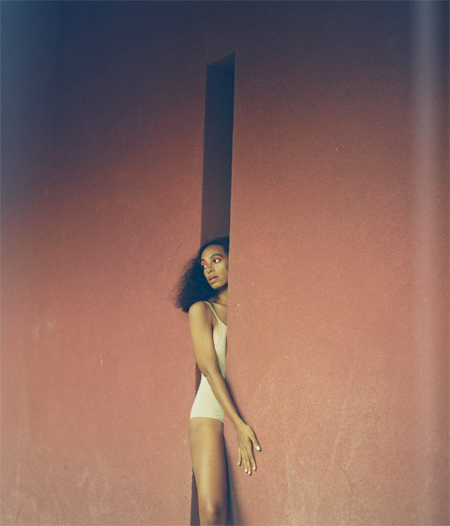 Well how about this for a surprise!
Solange Knowles is being sneaky, but not completely, as she announced on Tuesday, the release of her brand new album A Seat At The Table, hitting digital retailers and streaming services on Friday, Sept. 30, via Saint Records/Columbia.
The 21-track project, which she began writing and producing in 2013, features appearances from Lil Wayne ("Mad"), Sampha ("Don't Touch My Hair"), The-Dream and BJ the Chicago Kid ("F.U.B.U."), Q-Tip ("Borderline"), Kelly Rowland ("Interlude: I Got So Much Magic, You Can Have It"), Tweet, and more.
Earlier this week, the Michael Kors spokeswoman sent 86 lucky fans, who signed up for her new website, a poetry book of lyrics and photos, leading to speculation about a new album. A digital version of the book is also available for download.
A Seat at the Table, described as "a project on identity, empowerment, independence, grief, and healing," marks Solange's first body of work since 2012's acclaimed EP True.
See the tracklisting and image below.
Y'all, I think we're getting a fucking @solangeknowles album really soon. ? #ASeatAtTheTable pic.twitter.com/W4j7tsPb9O

— Alex Naser-Hall (@anaserhall) September 26, 2016
A SEAT AT THE TABLE TRACKLIST:
01. Rise
02. Weary (Additional vocals blessed by Tweet)
03. Interlude: The Glory Is in You
04. Cranes in the Sky
05. Interlude: Dad Was Mad
06. Mad feat. Lil Wayne (Additional vocals blessed by Moses Sumney and Tweet)
07. Don't You Wait
08. Interlude: Tina Taught Me
09. Don't Touch My Hair feat. Sampha
10. Interlude: This Moment (Additional vocals by Devonté Hynes of Houston, Texas and Lu of Carolina)
11. Where Do We Go (Additional vocals blessed by Sean Nicholas Savage)
12. Interlude: For Us By Us
13. F.U.B.U. feat. The-Dream & BJ the Chicago Kid (Additional vocals blessed by Tweet)
14. Borderline (An Ode to Self Care) feat. Q-Tip
15. Interlude: I Got So Much Magic, You Can Have It feat. Kelly Rowland & Nia Andrews
16. Junie
17. Interlude: No Limits
18. Don't Wish Me Well
19. Interlude: Pedestals
20. Scales feat. Kelela
21. Closing: The Chosen Ones