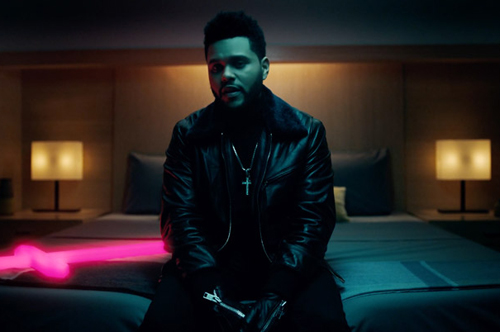 If you had any doubts, The Weeknd is a officially a 'Starboy' now!
With the release of the visuals for the first single off of Abel's highly anticipated third album Starboy, fans get a chance to see him transform. Though he's still the same gritty singer we all know and love, The Weeknd uses this video to symbolize his growth as an artist and as a man. In the video, he literally kills his old self, donning his signature free-form dreads and a clean cut suit à la his "Earned It" video days, then re-emerges as a new version of himself. Showing off his new hair cut and wearing all black with an iced out cross chain, the Toronto native is not just a 'Starboy,' he's a badass.
The majority of the video follows The Weeknd as he uses a glowing red cross to destroy the remnants of things that remind him of his past. One thing that he doesn't destroy though, is a portrait of two men, who happen to be Daft Punk, as he dances his way around the luxurious loft and smashes through all the things that no longer represent him. Once he's purged himself of everything he rides off into the night sky with a new furry friend in a shiny new red McLaren.
Checkout the video below.
–Words by Jamila Wright