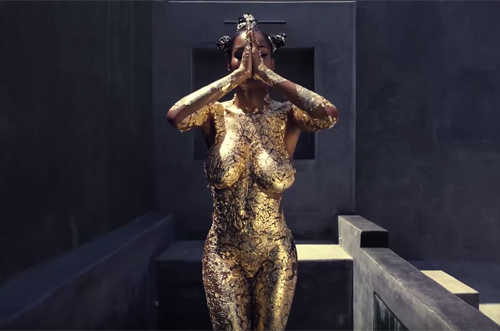 GOOD Lord!
Teyana Taylor has stunned again in the visual premiere for her new freestyle over Kanye West's Cruel Winter single, "Champions."
Following her breakout appearance in the "Fade" video, the singer/actress continues to show off her incredible physique, and even deliver some commanding rap bars. Dipped in gold body paint that covers more and more of her body as the video plays out, and holding two gold painted machine guns, the First Lady of G.O.O.D Music exudes sexy confidence once again.
The stop-motion video features only photographs of Teyana, shot by Sasha Samsonova.
"hope you guys love it," she wrote. "Again THIS IS MADE WITH ALL PHOTOS!! Fireeeeee."
Taylor is set to appear on VH1's hip-hop drama series "The Breaks" and is working on the follow-up to her 2014 debut album VII.
Check out the visual below.