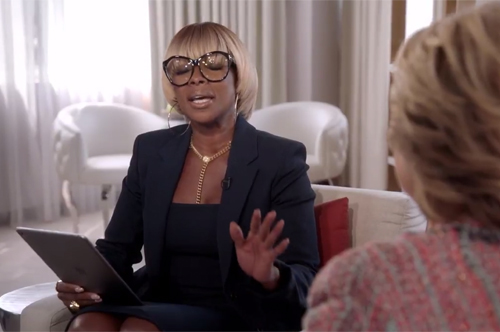 Later this week, Mary J. Blige will air her one-on-one interview with Democratic Presidential nominee Hillary Clinton on her Beats 1 Radio show "The 411." As a trailer of sorts, today Apple Music released footage of Mary J. Blige singing to Clinton at one point during their sit-down together.
In the short clip, Mary J. sings a stirring cover of Bruce Springsteen's "American Skin (41 Shots)." While Springsteen's original was inspired by the police shooting of Amadou Diallo, Mary's version is much more emotionally charged and timely – what with the deaths of many Black folks in police encounters this year alone, most recently Keith Lamont Scott in Charlotte. When Mary concludes her brief song, she asks Secretary Clinton point-blank, "I just want to know – where do we go from here?"
Check out Mary J. Blige's cover of "American Skin" below. Mary J. Blige's "intimate conversation" with Hillary Clinton will air on Blige's "The 411" Beats 1 Radio show on Apple Music this Friday, September 30th.
Like you've never seen them before.@MaryJBlige sits down with @HillaryClinton.#The411
Coming September 30th.https://t.co/hbaWqfjJcp pic.twitter.com/P2qpm3h3Pm

— Apple Music (@AppleMusic) September 27, 2016
An intimate conversation.@MaryJBlige and @HillaryClinton.#The411 coming September 30 on Apple Music.https://t.co/hbaWqf27NP pic.twitter.com/9nYv3G36MO

— Apple Music (@AppleMusic) September 27, 2016
–Words by Bradford Howard