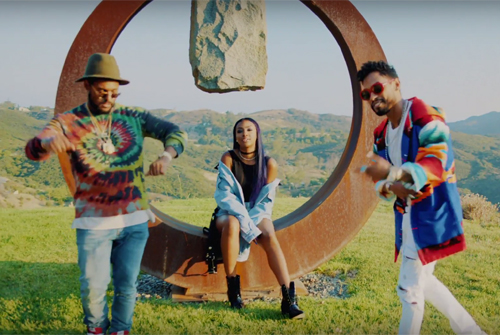 ScHoolboy Q has a potent message in the music video for his song "Overtime" featuring Miguel and Justine Skye.
The fan favorite track off Q's acclaimed new album Blank Face is brought to life with a compelling visual, which is part playful and part serious.
The TDE spitter hangs at a park playground with sexy twerkers surrounding him, even getting his hair cut by a bikini-clad model friend.
Meanwhile, Miguel delivers the hook from a scenic overview and Justine sings with balloons all around her. The visual ends abruptly when Q punches out a potential Skye suitor in the finale.
Check out the video below.
Earlier this year, Q revealed how the collaboration came about during an interview with Los Angeles radio station Real 92.3.
"When I wrote the song, I hated it at first because it reminded me of a bootleg 'Studio' because I was singing on the hook," he said. "The part Miguel's singing, I was singing. Then I brought Kendrick in. I said, 'Give me that Lord of the Rings stuff you be doing. He did it and then he tell me, 'That ain't it either.' Top heard it and was like, 'We gotta use it.' He tried to make me use my singing part. I'm like, 'It's not happening.' That's when I was like, 'Give me Miguel.'"
"Then I asked [TDE President] Dave [Free], 'Who is another young dark-skinned up and coming artist that's dope and got a good voice?' He gave me a bunch of names and I didn't know much about Justine but I heard her voice," Q added. "I was like, 'She's beautiful and she sings good. I need her on this record.' Then, there you go. You have the record."