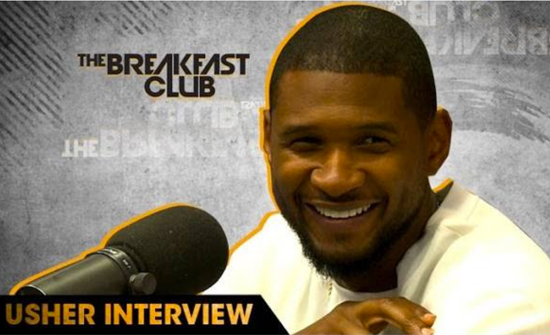 Usher is getting more open and honest in his latest music, and the same goes for his new interview with 'The Breakfast Club.'
Starting out their chat talking about the success of his radio single "No Limit" featuring Young Thug, the R&B superstar spoke about connecting with Master P for the official remix, and making sure the video was dance heavy. Continuing to speak about his brand new album Hard II Love, Usher talked about using some classic retro samples like Ready For The World's "Let Me Love You Down" on "Let Me" and Luke's "I Wanna Rock" on "Bump." He discussed the meaning behind the title "Hard II Love" which he switched the name to after it was originally titled 'Flawed.'
Continuing on, Usher talked about receiving a star on the Hollywood Walk of Fame, winning the NBA Championship after his 11-year-old investment with the Cleveland Cavaliers, portraying the role of boxing legend Sugar Ray Leonard for the new movie Hands of Stone, the choice of Colin Kaepernick to protest police brutality by sitting during the singing of the National Anthem, and more.
On another note, the singer made headlines earlier this year when he slipped up by posting an image on SnapChat which showed part of his penis while he was in a steam room. When questioned about it, Usher admitted he was high on lean when he posted it!
Hard II Love is in stores now. Check out his full interview below.