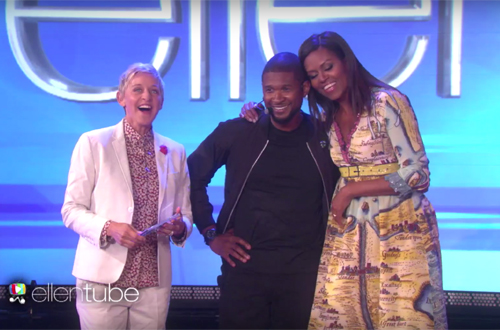 It's officially Usher week!
After the surprise, early release of his new album Hard II Love on TIDAL today, the R&B star made an appearance on "Ellen" to perform his single "Crash."
Joined by First Lady Michelle Obama, Ellen introduced Usher to a rousing applause as he hit the stage, gliding through the dance number with ease, and basically the opposite of his debut "slow-mo" performance of the song on "The Tonight Show." Scenes from the song's music video played behind him on a large screen before his dancers came out to join his choreographed routine.
Usher received a lot of love for the performance, even a kiss on the cheek from the First Lady. All the audience members were gifted with advance physical copies of Hard II Love to take home.
Watch Usher "Crash" onto "Ellen" below, and stream Hard II Love here.