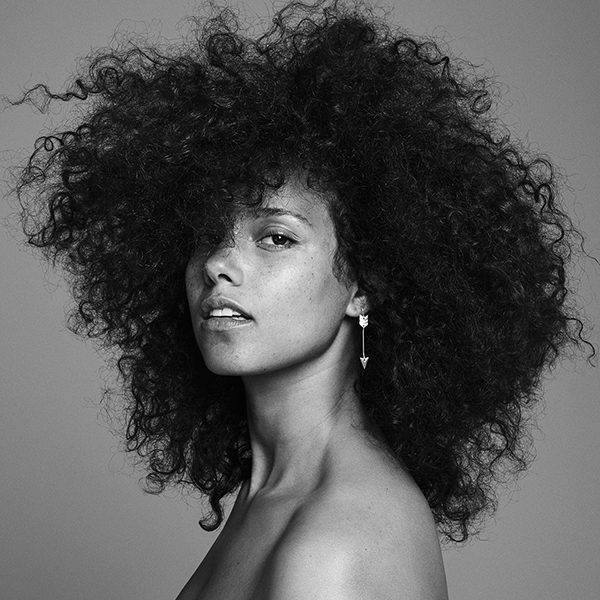 With less than a week to go before the release of her brand new album, Alicia Keys has finally shared HERE's tracklisting.
On Saturday (Oct. 29), the singer-songwriter DM'd some of her fans on Twitter with the news before revealing it to a wider audience.
"When u put out the track listing to my favorite album yet!! Only 6 more days til u can hear what I've been dreaming up for us! #AliciaIsHERE," she tweeted.
The album contains 16 tracks featuring five different interludes, including "The Beginning," "Elevate," "You Glow," "Cocoa Butter," and "Elaine Brown," the latter referencing a famed activist.
So far, the only known guest on the album is A$AP Rocky, who appears on the previously-released "Blended Family (What You Do For Love)."
Other tracks include "Holy War" and "She Don't Really Care," which Keys performed at the Apple Music Festival in London. Surprisingly, "In Common," initially thought to be the album's lead single, and "Hallelujah" aren't on the final version of the LP.
See the full tracklisting below.
When u put out the track listing to my favorite album yet!! Only 6 more days til u can hear what I've been dreaming up for us! #AliciaIsHERE pic.twitter.com/BG8Hcgtd1a

— Alicia Keys (@aliciakeys) October 29, 2016
HERE TRACKLIST:
01. The Beginning (Interlude)
02. The Gospel
03. Pawn It All
04. Elaine Brown (Interlude)
05. Kill Your Mama
06. She Don't Really Care_1 Luv
07. Elevate (Interlude)
08. Illusion of Bliss
09. Blended Family (What You Do For Love) feat. A$AP Rocky
10. Work On It
11. Cocoa Butter (Cross & Pic Interlude)
12. Girl Can't Be Herself
13. You Glow (Interlude)
14. More Than We Know
15. Where Do We Begin Now
16. Holy War