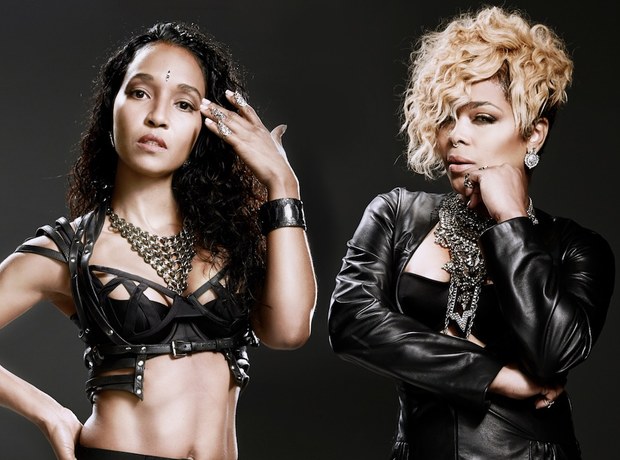 Who's ready to finally hear the long-awaited new music that Chilli and T-Boz have been cooking up? All the fans that contributed to their successful Kickstarter campaign are for sure. But, all of us lifetime TLC fans have been eager as well, and now, that time is well, now.
In what seems like a surprise, but questionable move, Chilli and T-Boz have released two brand new singles, off their anticipated comeback album, but on iTunes Japan exclusively. Building on the TLC sound which pushed the barriers of R&B/Pop in the '90s and early 2000s, both tracks feel like an adequate progression into a modern version.
The first song, "Joy Ride," is a lively, breezy anthem, meant to feel good and celebrate all the fun times the ladies have had together. "I remember just like it was yesterday / I was just dreaming, praying my whole life would change / You, all the support you gave me, made me who I am today," they sing.
Meanwhile, the second song "Haters" is also an upbeat Pop/R&B number, and their latest effort to address current issues, focusing on bullying across social media.
There is currently no official confirmation on the album's release date, or when these singles will be launched in the U.S., but the duo's manager Bill Diggins recently told Paste Magazine that 15 songs have already been completed for the project and it's on the way.
In early 2015, TLC asked fans to help fund their final album through a Kickstarter campaign, and it was hugely successful. The ladies raised over $400,000 with the help of more than 4,000 backers.
"This album, our FINAL ALBUM, is dedicated to all of you that have stuck with us, always challenging us to do our best," reads TLC's message on Kickstarter. "And of course, it's for the new fans too! ;) We just want to put out great music that touches everyone. That's it."
Take a listen to both new tracks below.