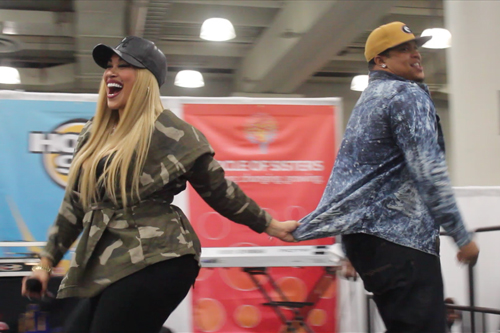 Over the weekend, Keke Wyatt was one of the special performers at the 'Circle of Sisters' expo in New York City. Along with her impeccable vocals, and bombastic personality, the R&B songstress brought a surprise along for her fans.
During her set, which also included past hits like "Lie Under You," "Fall In Love" and "Nothing In This World," Wyatt treated the crowd to a first listen of her upcoming new single "Jodeci."  A bed shaking slow jam, the record is of course inspired by the legendary '90s R&B group who's name is always synonymous with sex jams.
Toward the end of the record, Keke tried pulling her husband Michael on stage to grind with her, but he kindly returned to the floor.
The single and music video are due out very soon, while the new 'Deluxe' version of her latest album Rated Love is out this Friday, October 21.
In addition to Keke, a slew of R&B stars hit the stage as well, including Mario, Ro James, Joe, Rotimi, and Yuna.
Check out the footage below.
Shout to TrueExclusives and YeahImFamous.