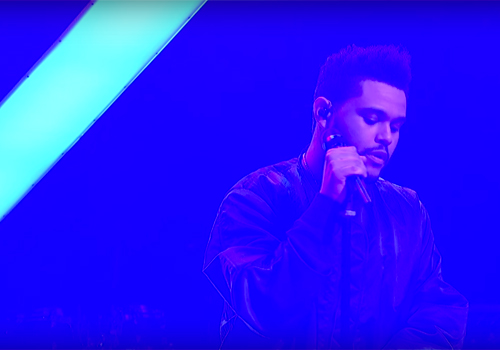 It's a new era for The Weeknd.
The Canadian star helped kick off the 42nd season of "Saturday Night Live" with a bang on Saturday (Oct. 1). Following an introduction from host Margot Robbie, Puma's new Global Brand Ambassador delivered the two brand new singles off his forthcoming album third album Starboy, starting with the title track.
Sporting his new hair cut while standing in front of a glowing cross, Abel belted out the Daft Punk-assisted single live for the first time. As smoke filled the stage, he busted out some Michael Jackson-inspired moves, ending the performance with a smile.
For his second electrifying set of the evening, The Weeknd performed "False Alarm," which he debuted the day before. Clad in a black satin bomber, he channeled his inner punk-rocker as the cross behind him changed colors, ending on a chilling note.
Watch Starboy come alive below.