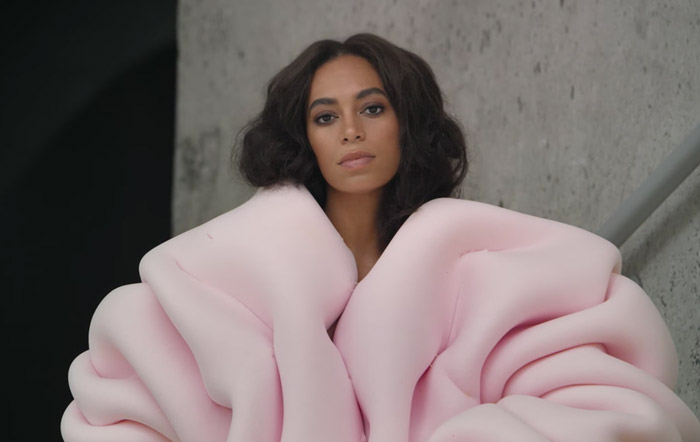 Just days after releasing her surprise new album, A Seat at the Table, Solange serves up the first two visuals from the project.
Co-directed by the songstress herself and her husband Alan Ferguson, the stunning videos reveal what she has been teasing on Instagram in recent weeks.
The first, "Cranes In The Sky," is a beautiful creative combination of location shots, which shows Solange in various settings and outfits, from far away and close up, as she gently dances and sings about her sadness. "I thought a new dress would make it better / I tried to work it away, but that just made me even sadder," she sings.
Solange continues with the stylistic shooting and impromptu dance moves in shifting locations on "Don't Touch My Hair." Sampha joins her here, both in the song and in the visual.
"Don't touch my hair / When it's the feelings I wear / Don't touch my soul / When it's the rhythm I know," she commands.
Check out both compelling videos below.
A Seat at the Table has already garnered positive reviews from fans and critics alike. But it's been a particularly moving experience for Solange herself, who's said the LP is a "raw" reflection of her life.
"I think anytime that you're really open and raw like that with yourself, it is a little scary because you never know what you're going to discover along the way," she told W magazine. "You never know what you're going to find out about yourself, and about your entire experience of life. I was taking a huge step by being so vulnerable and open. But what's really interesting about this is that it's the album that I was destined to write since I was in third or fourth grade."