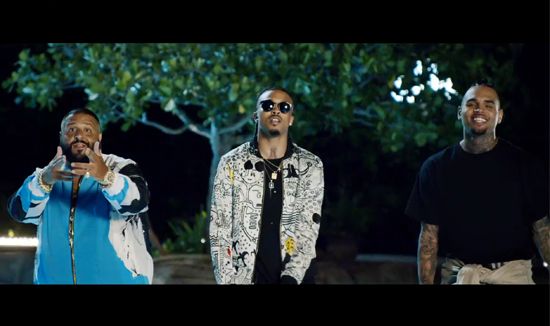 The lavish house, pool and lifestyle don't come cheap or easy, as DJ Khaled attempts to explain to his lover in the opening scene of his flashy "Do You Mind" video.
The catchy R&B/Rap single, off the music executive's latest album Major Key, features an all-star cast including Chris Brown, August Alsina, Nicki Minaj, Jeremih, Future & Rick Ross.
The Gil Green-directed clip features plenty of bikini wearing models, and kicks off with a seductive scene from Nicki, who shows off her curvaceous assets in some lacy lingerie while strutting around her hotel room. Breezy and August join Khaled poolside for the infectious hook. Later Brown gets close with his lady at the piano, and Alsina kicks his verse while lounging on a bed with his girl.
Khaled flashes back to better times with his girl, including their rose garden rendezvous and rides through his palatial estate on a 4-wheeler. Jeremih makes his appearance with a female chanteuse of his own in the hallway and foyer with Khaled by his side. Future drops by spitting his verse about catering to his lady with calamari dinners, while a slim Ricky Rozay flexes his player ways with model Monifa Jansen.
The visual ends on a happy note as Khaled and his lover kiss and make up. "I got a new name in the streets. They call me Billy," he says before presenting her with a diamond necklace. "No words can describe how beautiful you are. You're a major key to me, baby. Billy got you. I love you."
Watch the new video below.