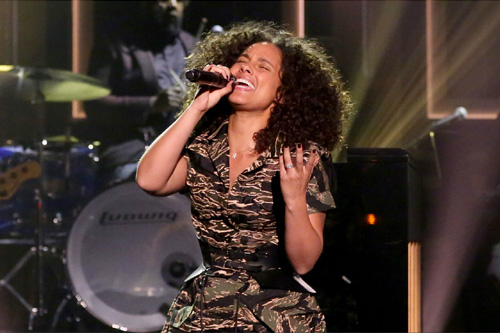 Alicia Keys turned "The Tonight Show" into a "Blended Family" affair.
Celebrating the release of her new album HERE, the R&B songstress was joined by buzzing female rapper Young M.A. and The Roots for a live performance of her single, "Blended Family (What You Do for Love)."
Although the song's original guest A$AP Rocky couldn't make the show, Young M.A. stepped in with an introspective verse about her own blended family experiences.
"Growing up, I had a little sister, older brother / For us, a father figure was a single mother / My daddy was locked up / My momma was knocked up / And every now and then my brother's father would pop up / But I consider him dad," rhymed M.A.
Alicia took it from there. Backed by The Roots, she sang from behind her piano and eventually, standing up for her dedication to how "love can bring us closer than blood."  In addition to her performance, A. Keys sat down with Jimmy Fallon where she spoke about how she "stepped it up" on "The Voice," and she accepted a doughnut gift from Questlove.
Check out her performance and interview below.