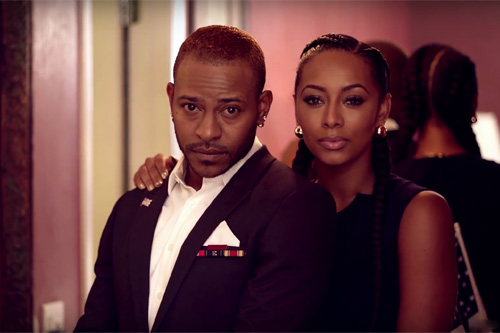 The political season continues for Eric Bellinger, who has debuted the short film style double video for "G.O.A.T." and "In My Prime," both tracks are off his recently released EP, Eric B. for President.
The R&B singer/songwriter scores a victory amid scandal in the visuals, which co-star actor Columbus Short and singer/actress Keri Hilson.
"I wanted something along the lines of my project 'Eric B. for President: Term 1,' so when the director, Sat, contacted me about doing music videos themed around the TV show House of Cards, the timing was perfect," Bellinger tells Billboard. "He had an idea about doing a political drama that connected the two music videos — people don't really do that anymore so I thought it was a great idea. And since everyone was sucked into this crazy election, it only made sense."
For the ARoc-assisted "G.O.A.T.," Eric plays a presidential candidate who sabotages his opponent's chances by having a seductive saboteur create a sex tape scandal that allows Bellinger to secure the win. He then hosts his own celebratory bash for "In My Prime" featuring Phil Ade.
Watch the political scandal unfold below.