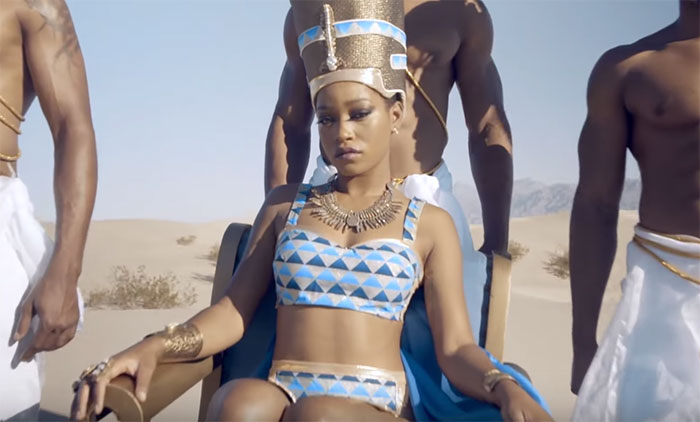 Keke Palmer had much more in store for fans with her brand new Lauren project. Coinciding with the EP release, the talented singer/actress has unleashed a feature length visual set to the music.
Over 16 minutes, the multi-faceted star delivers banger after banger through various plots and themes. From the opening scene, in which Keke encourages listeners to believe in themselves, Palmer sets the tone for an artistic journey that includes documentary-style vignettes.
"Doubtful" kicks things off with rain-filled, black-and-white scenes that are likely symbolic. Moving forward with Lauren, "GMFU" is a hotel room spectacle featuring a hilarious foul-mouthed muppet named Cousin M. "Shawty, I'm a 22-year-old boss," Palmer sings confidently. "Caught up in my fame / Want me to be the girlfriend / Not me."
From there, Keke reps Chicago on "Jealousy," while rapping about someone who's in their feelings. "Don't let this TV make you think that you know me," she sings while surrounded by smiles.

Things get seductive with "Pressure," as Keke smooths it out in the studio-shot clip. "[It's] really talking about somebody putting that pressure on you to the point where you're feeling like you want to take that extra step to open up," she explained. "It talks about what it means when you are ready to grow and it's time to and how you deal with it."
Finally, Keke transforms into an Egyptian queen in "Hands Free" before closing the curtains with a final regal shout: "Catch you later, motherfuckers!"
See what Keke told us about the 'Lauren' project, and stream it here.