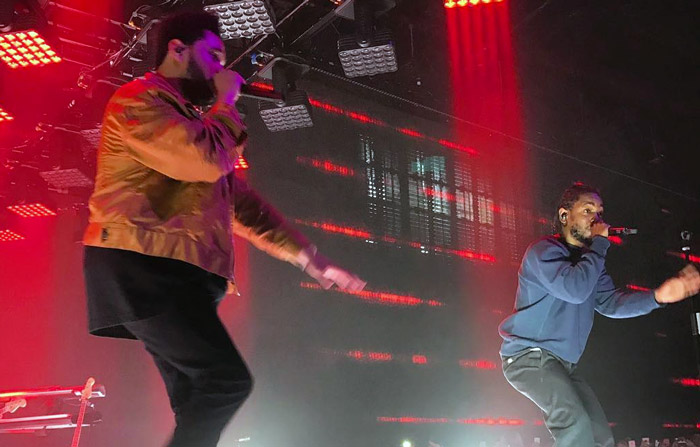 While performing a special VEVO show in Los Angeles on Saturday night (Dec. 17), The Weeknd surprised the audience by bringing out Kendrick Lamar to join him for "Sidewalks," off his new hit album Starboy.
Abel and K-Dot dapped up one another before the TDE spitter delivered his show-stopping, rapid-fire verse.
Backed by a live band, things didn't end there, as Kendrick stayed through the song's final chorus, supporting The Weeknd on the streetwise anthem, which features vocals from Sam Smith.
Before "Sidewalks" dropped, The Weeknd said the song helped him see Kendrick's "genius" ways. "He's a genius," he told Beats 1. "He probably came in the afternoon and left late at night. He did it there on the spot. He played the record over and over. I played him songs, the 'Starboy' theme, of course, which he incorporated into his verse. He would just walk around, we had food, and he's writing his verse in his head. He'd go to his phone, look at it a few, put it back in, start walking around. He then at one point went into the studio booth, closed the door, and I could hear him yelling his verse."
Check out the footage below.