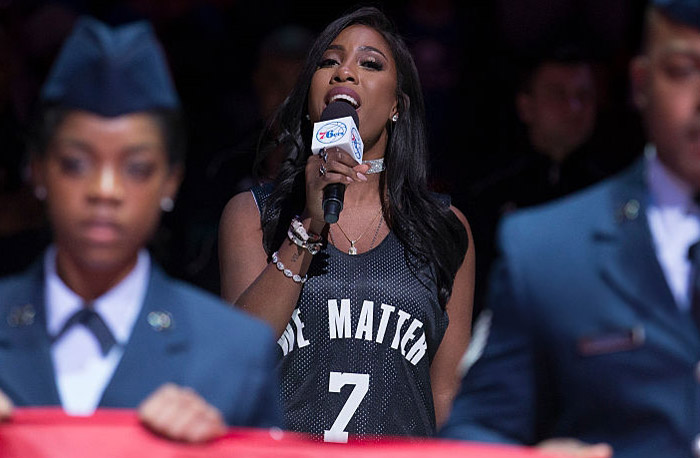 Sevyn Streeter had a "full circle moment" on Friday (Dec. 16), when she returned to Philadelphia to perform the national anthem at the 76ers game.
Nearly two months after her performance was canceled because she was wearing a "We Matter" jersey, Sevyn returned with the jersey on to deliver "The Star-Spangled Banner."
With images of the flag waving above her, Sevyn belted out the song before the 6ers took on the Los Angeles Lakers. Prior to the performance, Sevyn reflected on the moment and what it meant.
"I'm really excited," she said. "I'm feeling great. I'm happy that we were able to turn an unfortunate situation into something positive. I'm singing the anthem tonight. I'm wearing my 'We Matter' jersey. I was just able to play with kids from the Boys & Girls Club…I feel awesome."

Sevyn also explained why her jersey shouldn't have been controversial in the first place. "I think that me saying 'We Matter' and me singing the anthem, there's no conflict in the two for me," said Streeter. "I love my country. When you love something so much, you just want it to be better."
On Instagram, Sevyn shared a video of the performance, calling it a "Full Circle Moment."
Back in October, Streeter revealed disappointment with the way she was treated by the 76ers. "I'd say two minutes before we were about to walk out … the organization told me that I could not wear my shirt while singing the national anthem at their game," she said. "I was never given any kind of dress code. I was never asked beforehand to show my wardrobe."
The organization would later apologize for the move. "We are sorry that this happened," the team said in a statement. "After receiving feedback from our players, basketball operations staff and ownership group, we believe that the wrong decision was made, and Sevyn should have been welcomed to sing. We apologize to her."