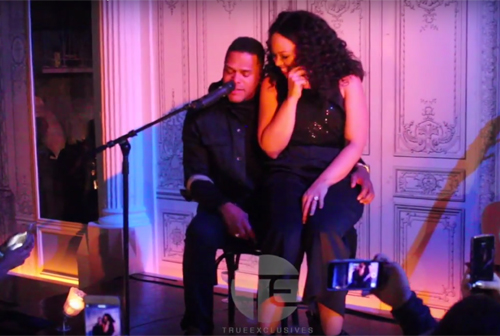 Elle Varner held a 'One Night Only' show at New York City's Duane Park on Friday night (Dec. 16). The soulful singer teased via her social media that the night would be magical and she did not disappoint!
Opening the show at the top of a staircase with "Not Tonight" (from her debut album) and covering Tamia's "Officially Missing You," it was clear that Varner was not here to play games.
With Christmas around the corner, Elle decided to spread some holiday cheer with a cover of "Have Yourself A Merry Little Christmas" with some help from singer/songwriter Stacy Barthe.
Proclaiming that she is officially "back," she previewed a new song titled "Heart Emoji Eyes" from her long-overdue next album.
While singing in the crowd, Elle was caught off guard and shocked when she noticed Maxwell was in attendance. Max and Ro James then joined her on stage to perform their hits "Ascension," "Permission" and "Already Knew That."
Elle closed the show with her hit single "Refill" with the help of singer Aaron Marcellus, and it turned into a soul cypher with Maxwell, Ro James, Stacy Barthe, and Ali Caldwell (The Voice) all returning to the stage to join in.
Check out all the footage below!
via TrueExclusives