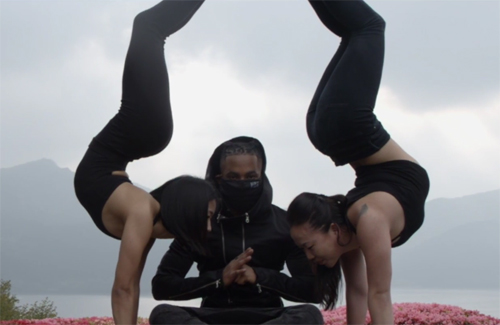 Elijah Blake began the year with his Blueberry Vapors EP, and it looks like he intends to end the year in the same way. The singer-songwriter released the project in early January; and while he's mostly dropped sporadic visuals here and there over the course of 2016, Blake had debuted a video for Vapors' stand out cut, "Forget You," today.
With Sean Alexander directing, the visuals for "Forget You" depicts Elijah Blake as a stranger in a foreign land. It takes place in an Asian country, Blake the sole Black face present in an almost ninja-like all Black outfit. He mostly observes, his intense stare either peering up from the shadows or peeking out of the windows of a telephone booth. But, the six-minute clip isn't just about Blake's haunting vocals: it's about taking the viewer on a journey, immersing them in the bustling city, the beautiful countryside, the incredibly flexible yogi, and more. Fitting, then, that there are so many unforgettable images in Blake's "Forget You" video.
Watch the video for "Forget You" below. Blake's Blueberry Vapors EP can still be downloaded for free here.
–Words by Bradford Howard