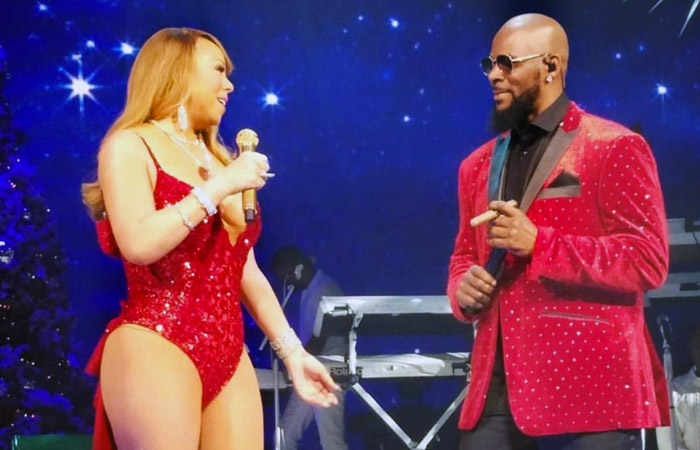 Mariah Carey continues to bring the Christmas joy with her NYC concert series.
After surprising fans with John Legend, Mimi brought out one of her all-time favorite male singers, R. Kelly, for a special duet performance at the Beacon Theatre on Thursday (Dec. 8). Mariah and Kellz celebrated the season with a cover of Nat King Cole's classic "The Christmas Song."
"We've never done this before," Mariah told the audience, before explaining her nervousness. "I want to do this song and I've never done it before so I'm a little nervous, especially because this is one of my favorite singers right here," she added, pointing at Kelly.
Nerves aside, Mariah and the Pied Piper dazzled the audience with their vocals, before toasting to the holidays with eggnog. Kelly, who just released his holiday album 12 Nights of Christmas, ended the performance by planting a series of kisses on Mariah's cheek.
"@rkelly graced my show this holiday season as we performed our mutual favorite Christmas classic 'The Christmas Song,' by Nat King Cole," Mariah wrote on Instagram. "#ThankYouKellz !!! You're the best!!!" Meanwhile, Kelly said he "had a blast."
Check out their full performance below.