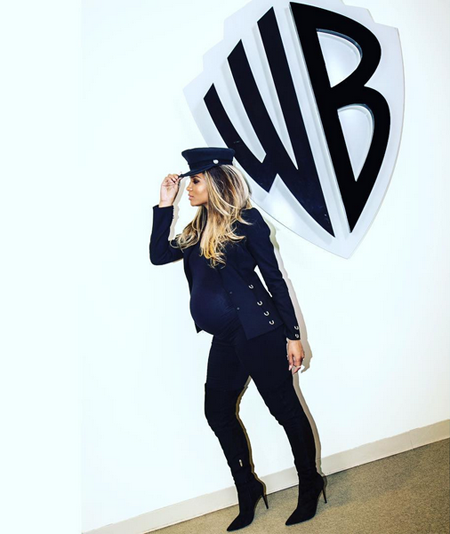 With her second child on the way, Ciara is getting things in motion for the next stage in her music career.
Today, the singer/model has announced that she has signed with Warner Bros. Records for her next album.
"We welcome Ciara to Warner Bros. Records and look forward to the next chapter of her storied music career," said Cameron Strang, Chairman and CEO, Warner Bros. Records.
"Warner Brothers Records!!! Lets Get It! Proud to announce and honored to join the family!," Ciara wrote on Instagram. "To all my Ladies out there…this is truly a time where we can do anything, be anything we want, & Love to the fullest while being loved in return.. there is No Limit! Dreams really do come true! I'm supercharged to make the World Dance again!"

Throughout her illustrious 13-plus years in entertainment, Ciara has sold over 23 million albums and 16 million singles worldwide. Upholding an unbreakable string of hits, her catalog boasts the No.1 single "Goodies," Top 5 R&B chart hits "1,2 Step," "Oh," "Promise," and "Ride," and her most recent platinum-certified single and 27th charted hit "I Bet" from 2015's Jackie. Known for her unparalleled dance abilities, Ciara's video archive showcases some of the most memorable choreography in pop music.
Ciara's influence has continued to permeate the world of fashion and beauty. Last year she signed with IMG Models and became Global Brand Ambassador for the iconic brand Revlon. In addition, she was the face of Roberto Cavalli's Fall/Winter 2015-2016 campaign, the first U.S. Ambassador to TOPSHOP, and part of the "Ladies First" KEDS campaign.
Last year, Cici married Seattle Seahawks quarterback Russell Wilson at an intimate ceremony in Liverpool at Peckforton Castle. In October, the couple announced they are expecting their first child together. Ciara has a two-year-old son, Future Zahir Wilburn, from an earlier relationship with rap artist Future.