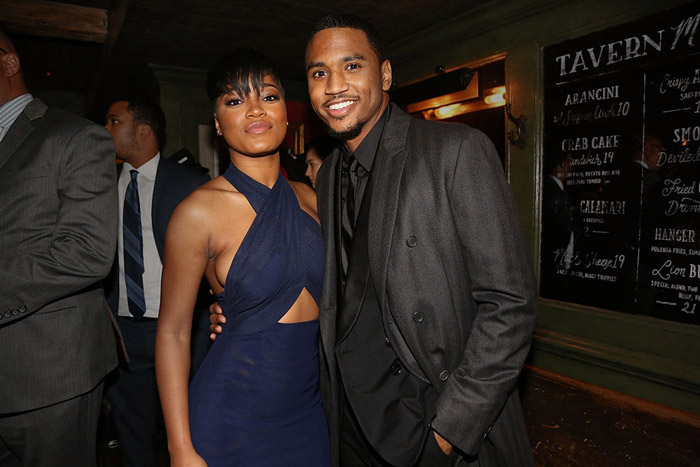 On Friday, Trey Songz and Fabolous released a music video for their MIKExANGEL-featured song "Pick Up the Phone." The visual was filmed in a small house party, and some fans were surprised to see a cameo from singer/actress Keke Palmer.
However, shortly after the video appeared online, Palmer released a group of video messages saying that her cameo was not approved, and on a more serious note, that it was an example of women being pressured and not treated fairly.
"This is preposterous. How am I in this video Trey?" she wrote on Instagram. "After you found me in a closet HIDING because I was so afraid of anymore conflict. Literally my last option was to hide because you all would not listen when I said I did not want to be in the video the FIRST time."
In the post, Keke also claimed she was disrespected and sexually intimidated at the party. "Just cause you give someone food and alcohol and throw in a little sexual intimidation doesn't mean they will buckle," Palmer wrote. "Yet, you still disrespected me as a young women, whom you've known since she was TWELVE. YOU STILL, defied my wishes and in turn showed your lack of respect for a brand that took me fourteen years to build and put me in the video against my wishes."
Palmer appears in the video while Trey Songz new artist MIKExANGEL sings about how he'll "palm her pussy like Keke." Soon after he sings the lyric, Palmer appears to be taking selfies near the singer. In her post, Palmer reveals those scenes were "secretly filmed."
"I clearly said no," she wrote. "And you said okay, yet I was being secretly filmed when you told me 'let me just show you the idea'?? Wow…this is the sexism and misogyny I refer to because if I was a dude, he wouldn't have even tried me like this. Let this be a lesson to all, I'm not for the bullshit. I'm serious about my business and you will not use my likeness without MY permission. When you in front of a boss you treat them like one, like I treat YOU. NO MEANS NO!!!!!!! People have to listen to women and stop questioning them and their intelligence. Speak up, cause when you look someone in the face and they say 'I understand. You don't have to feel pressured to do the video' and they STILL put you in it, it is a violation. It would be great to be able to handle these things privately but why when they aren't respected?"
In her video messages, Keke explained that she was under the influence at the party where the music video was shot. But she also said she was anxious due to pressure. "I hid in the closet because I was so afraid," she said. "I didn't know what to do. I really don't like conflict. It was just too much. I started to feel overwhelmed."
"I have suffered with anxiety most of my life, I did not go to high school, I am a bit socially inept," she added in a caption. "At the end of the day, it doesn't matter, what matters is I said 'no.' After all that dramatic shit I still wound up in the video somehow. P.S. Don't feel bad about saying how you feel."
Trey Songz responded with a series of posts on social media. "Babygirl buggin," he tweeted. "Point blank period. Got my number, coulda called, saw the cameras and the lights, heard action…I don't do this twitter shit, girl you know me and got my number fuck outta here."
Babygirl buggin. Point blank period. Got my number, coulda called, saw the cameras and the lights, heard action.

— Trey Songz (@TreySongz) January 22, 2017
I don't do this twitter shit, girl you know me and got my number fuck outta here

— Trey Songz (@TreySongz) January 22, 2017
"So sorry for those that believe everything without knowing anything," he continued on Instagram. "However, I cannot devote my life to responding to, or clearing up every side of every story you hear about me, when would I actually live? I know my character, I know my truth, I know my heart. God does too. Words to anyone who's being tested right now…I feel you, it'll pass, I've been in a million storms…they all pass. Don't let the noisy thoughts of others drown your inner voice, or inner peace for that matter."
He added hashtags to his post like: "#iwrotethisontheyacht #lmao #ididnotwritethisontheyacht #aintersgonnaaint #itwasallgoodjustaweekago #longasspost #gotrealproblemskeeppettyshitoffmyline."
In today's social media world, when everyone is filming all the time, and often without people's permission, this is a dangerous situation. We wonder if this could have been handled differently on clearing up the confusion, on both sides? What do you think?