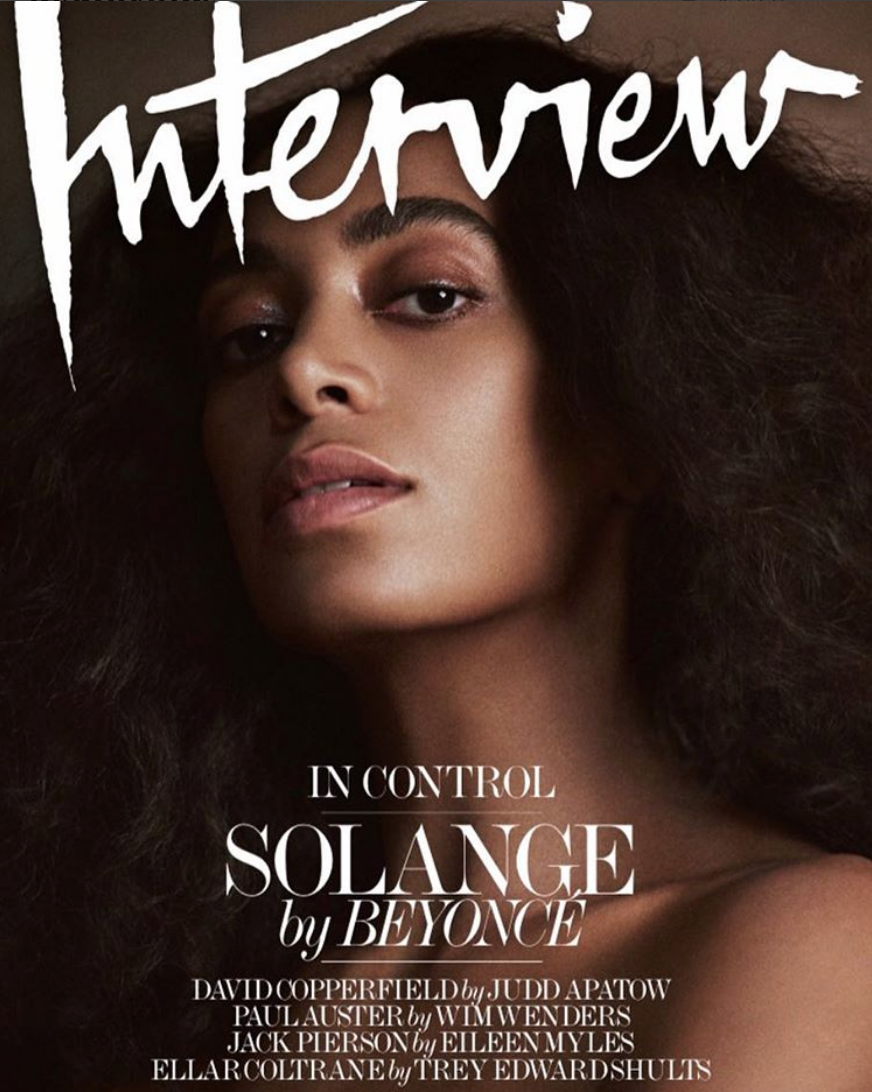 Solange Knowles has always been an impassioned artist, and delivered unique and often exceptional art into the world. With her 2016 album A Seat at the Table, it feels like the whole world has finally caught on to her as an important voice in her own right, and not just the sister of Beyoncé.
Rightfully so, when the younger Knowles daughter was asked who she would like to interview her for her cover story in Interview Magazine, the soulful songstress chose her big sister. Bringing it all full circle, Solange talked to Bey about the challenges and achievements of her lifetime, including womanism, growing up in a hair salon, all elements of crating A Seat at the Table, their parent's influence, and much more.
Check out excerpts from their interview below.
BEYONCÉ: Are you exhausted? I know you had a parent-teacher conference …
SOLANGE: Yeah, I actually had to fly to Philly because there were no flights left to New York. And now I'm driving from Philly to New York. Well, I'm not driving, but …
BEYONCÉ: You have to drive? From Philly?
SOLANGE: Yeah. But it's not bad. It's only an hour and 40 minutes.
BEYONCÉ: Oh my God! Rock star. Well, it is a bit strange, because we're sisters and we talk all the time, to be interviewing you. But I'm so happy to interview you because, clearly, I'm your biggest fan and I'm super proud of you. So we'll start from the beginning. Growing up, you were always attracted to the most interesting fashion, music, and art. You were obsessed with Alanis Morissette and Minnie Riperton and mixing prints with your clothes … when you were only 10 years old. You would lock yourself in a room with your drum set and a record player and write songs. Do you remember that? Of course you do.
SOLANGE: I do. [both laugh]
BEYONCÉ: What else attracted you growing up?
SOLANGE: I remember having so much perspective about my voice, and how to use my voice, at such a young age—whether it was through dance, poetry, or coming up with different projects. I guess I always felt a yearning to communicate—I had a lot of things to say. And I appreciated y'all's patience in the house during all of these different phases. They were not ever very introverted, quiet phases.
BEYONCÉ: No, not at all. [both laugh] I remember thinking, "My little sister is going to be something super special," because you always seemed to know what you wanted. And I'm just curious, where did that come from?
SOLANGE: I have no idea, to be honest! I always knew what I wanted. We damn sure know that I wasn't always right. [both laugh] But I'd sit firm, whether I was right or wrong. I guess a part of that was being the baby of the family and being adamant that, in a house of five, my voice was being heard. Another part is that I remember being really young and having this voice inside that told me to trust my gut. And my gut has been really, really strong in my life. It's pretty vocal and it leads me. Sometimes I haven't listened, and those times didn't end up very well for me. I think all of our family—you and mom—we're all very intuitive people. A lot of that comes through our mother, her always following her gut, and I think that spoke to me really loudly at a young age and encouraged me to do the same.
BEYONCÉ: You write your own lyrics, you co-produce your own tracks, you write your own treatments for your videos, you stage all of your performances, all of the choreography … Where does the inspiration come from?
SOLANGE: It varies. For one, I got to have a lot of practice. Growing up in a household with a master class such as yourself definitely didn't hurt. And, as far back as I can remember, our mother always taught us to be in control of our voice and our bodies and our work, and she showed us that through her example. If she conjured up an idea, there was not one element of that idea that she was not going to have her hand in. She was not going to hand that over to someone. And I think it's been an interesting thing to navigate, especially watching you do the same in all aspects of your work: Society labels that a control freak, an obsessive woman, or someone who has an inability to trust her team or to empower other people to do the work, which is completely untrue. There's no way to succeed without having a team and all of the moving parts that help bring it into life. But I do have—and I'm unafraid to say it—a very distinctive, clear vision of how I want to present myself and my body and my voice and my perspective. And who better to really tell that story than yourself? For this record specifically, it really started with wanting to unravel some truths and some untruths. There were things that had been weighing heavy on me for quite some time. And I went into this hole, trying to work through some of these things so that I could be a better me and be a better mom to Julez and be a better wife and a better friend and a better sister. Which is a huge part of why I wanted you to interview me for this piece. Because the album really feels like storytelling for us all and our family and our lineage. And having mom and dad speak on the album, it felt right that, as a family, this closed the chapter of our stories. And my friends' stories—every day, we're texting about some of the micro-aggressions we experience, and that voice can be heard on the record, too. The inspiration for this record came from all of our voices as a collective, and wanting to look at it and explore it. I'm so happy I got to take my time in that process. And the end result feels really rewarding.
BEYONCÉ: Well, it brought tears to my eyes to hear both of our parents speak openly about some of their experiences. And what made you choose Master P to speak on the album?
SOLANGE: Well, I find a lot of similarities in Master P and our dad.
BEYONCÉ: Me, too. [laughs]
SOLANGE: One of the things that was really, really deep for me in talking to Dad is his experience of having the community choose you [as one of the first students to integrate his Southern elementary and junior high school]—to do that, to go out and be the warrior and the face of that is just such an incredible amount of pressure. And to evolve from that and still have your sense of independence and still have your stride and your strength, and to dream big enough that you can create something from the ground up bigger than any community, neighborhood, or those four corners … I remember reading or hearing things about Master P that reminded me so much of Dad growing up. And they also have an incredible amount of love and respect for one another. And I wanted a voice throughout the record that represented empowerment and independence, the voice of someone who never gave in, even when it was easy to lose sight of everything that he built, someone invested in black people, invested in our community and our storytelling, in empowering his people. You and I were raised being told not to take the first thing that came our way, to build our own platforms, our own spaces, if they weren't available to us. And I think that he is such a powerful example of that.
BEYONCÉ: It was a three-year process to create A Seat at the Table. You took your time, and it's still so fascinating to me the amount of production you did for this album, the live instrumentation, with you physically, on the keyboards, on the drums, producing not only the vocals but also co-producing the tracks. It's something to be celebrated, for a young woman to be such a strong producer as well as a singer-songwriter and artist.
SOLANGE: Thank you! One of my biggest inspirations in terms of female producers is Missy. I remember seeing her when you guys worked together and being enamored with the idea that I could use myself as more than a voice and the words. On my previous records, I contributed to production here and there, but I was always really afraid to really get in there and … I guess I wasn't really afraid, I was just really comfortable writing the songs. I felt like my contributions as a producer were enough. But when I started to work on the sonics for this record, I realized that I had to create such a very specific sonic landscape in telling the story. I had these jam sessions, and there were holes that no one else could really fill for me. It really came out of a need for something outside of what I could articulate and lead someone else to do. And it was scary. It was really scary, and a lot of times I was frustrated with myself and feeling insecure because it was new to operate in that space and be in front of people at this age, learning something on this level. But I feel so grateful and excited that there's a new phase that I conquered as an artist.
Read the full interview here.
(Photos by Mikael Jansson for Interview Mag)