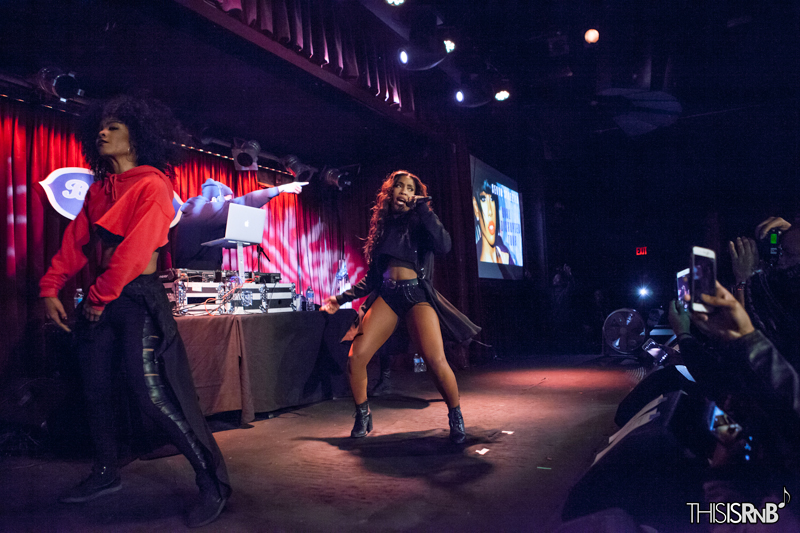 "Tonight, we're gonna disrupt all your problems, all your worries, and expose all your weak boyfriends and girlfriends," Sevyn Streeter told the packed house at B.B. Kings Blues Club & Grill in New York City's Times Square on Thursday night (Jan. 19).  The sexy R&B songstress was on the sixth stop of her "Girl Disrupted Tour," which is in promotion of her forthcoming debut album of the same name, and Sevyn gave the audience EVERYTHING.
Following an opening set from her friend, collaborator, and fellow R&B singer/songwriter Lonny Bereal, the Florida native was introduced to the stage by DJ Knockout. Confidently strutting to the front of the stage in a black hooded top, Sevyn received a roaring applause. The fan energy was all the way up as she commanded the venue with a rock-themed, turn-up twist on her Girl Disrupted single "Prolly," which had the crowd literally jumping in the air.  Next, she hit them with the Shoulda Been There-favorite "Boomerang," as fans sang along word-for-word.
Even though Sevyn is just getting ready to release her debut album, her catalog is strong, thanks to her 2 previous EPs, and she ran through favorites like "nEXt," "Shattered," "B.A.N.S," "Just Being Honest," and "Sex On The Ceiling," which she called on a male audience member to join her on stage and gave him a memorable lap dance. She even showed off her Miss. Streeter if you're Nasty side, planting 7 kisses on his face and neck.
After turning up the heat on the stage with her male visitor, Sevyn took a serious turn, telling fans about her love for singer-songwriters, which segued into her cover of Lauryn Hill's classic, "Ex-Factor." Allowing the audience to join in, she broke it down acapella showing off her gritty, soulful vocals, and by the end Sevyn was nearly in tears.
Streeter also treated the audience to her popular cover of Tory Lanez' "Say It," and new songs like "My Love for You," "D4L," and "Before I Do."  Plus she previewed 2 more cuts off her forthcoming LP, the anticipated August Alsina-assisted "Been A Minute," and the Ty Dolla $ign featured "Fallen."
Speaking about her forthcoming album, Girl Disrupted, and the reason she needed to live her life to write the best material, Sevyn told the audience: "Girl Disrupted really did disrupt some shit in me." The album was originally scheduled for release this month, but she told the crowd that it is now coming out in the spring.  Streeter ended her hour-long set with the feel good singles "It Won't Stop" and "Don't Kill the Fun."
Check out our exclusive photos below.
(Photos by Michael Mathis)