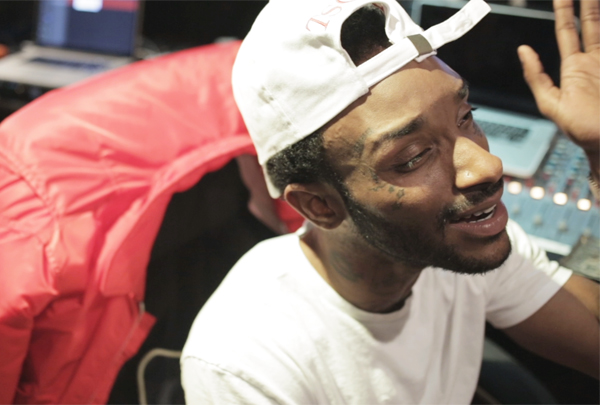 R&B runs deep in the UK, and every year we are introduced to exciting artists from London or the neighboring areas. Last year, we began featuring a buzzing singer/songwriter named ANGEL who is signed in the U.S. by Motown Records. The gifted artist closed out 2016 with the '90s R&B inspired EP 'HER,' which was led by the singles "Hop On" and "Fvxk With You."
With 2017 in full swing, and his debut album coming out later this year, we have teamed up with the talented artist for a special acoustic series, "This is ANGEL."
Performed and filmed in his hometown studio, ANGEL is giving fans and new listeners something to get excited about with the stellar acoustic performances.  In the first clip from his set, ANGEL debuts a brand new song titled "Waiting For You," off his forthcoming album, and mashes it up with a cover of the Mint Condition classic "Breakin' My Heart (Pretty Brown Eyes)."
ANGEL delivers rapturous authentic R&B vocals as he sings, "Think I better tell my side chick, I've fallen in love / Baby you could be my sidekick, even though you're not … I'm letting you know, I've been waiting for you," before he smoothly transitions into "Breakin' My Heart."
Watch the performance below, and stay tuned for a new one each week through March.
"My music is influenced by old school '90s R&B like Mint Condition, Jodeci and New Edition," explains ANGEL. "This is the genre and era that I'm inspired by and what I grew up listening to. You definitely hear it in my music with a fresh and modern approach."
ANGEL has worked with the likes of Swizz Beatz, Ed Sheeran, Jeremih, Jason Derulo, Dizzee Rascal and more, and has recently been in the studio with the likes of Kehlani, Prince Charlez (Rihanna's ANTI), and Pop and Oak (Nicki Minaj). He's also penned songs for UK staples like Pixie Lott and Cheryl Cole (of Girls Aloud), and wrote the UK #1 single, "Green Light" by grime music collective Roll Deep.
ANGEL got his start singing at home, growing up in West London. His father is Tenadi Charles, a popular figure in the UK reggae scene, who's played with Bob marley, Dennis Brown, Kaya and more. ANGEL (real name Sirach Charles) formed a band with his siblings growing up, "The Charles Family," and ended up touring across the UK, before starting to make a name for himself in the studio. He released his solo debut single in 2012, which reached the top 10 of the UK charts. Already a festival mainstay in Europe, with HER and his upcoming debut album, he is shaping up to become a household name across both sides of the Atlantic.