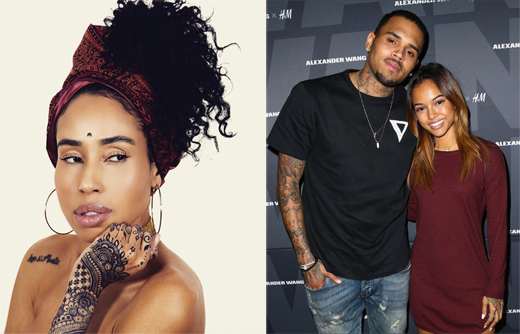 This situation is getting crazier.
When TMZ broke the news that Chris Brown's ex girlfriend, Karrueche Tran, had recently filed a restraining order against him, it sent chills through the internet, bringing back old feelings about his past situation with Rihanna. Of course, some fans of Brown took it as a publicity stunt and sided with the singer, who briefly spoke about the situation on Instagram.
However, many others sympathized with Karrueche, and came out against Brown for his behavior, which unfortunately continues to keep him in the news for the wrong reasons. As the situation now progresses, some new information has come out from singer/songwriter Kay Cola, who claims as a neighbor to Brown she witnessed hostile interactions between him and Tran when they were dating.
In a series of tweets, Kay Cola recounted that she heard Tran being physically abused by Brown.

"Some of y'all make me sick to my stomach talking about, Karrueche's lying," she wrote. "I've heard him beating her myself. I even called the police. I used to cry over that situation hearing her screaming at the top of her lungs because i am also a victim of domestic violence."
She also gave her two cents about the seriousness of the situation, saying she's known Chris for a long time and how he needs help.
"Some of y'all are so delusional defending this man! It's sick! He will never get help or change because of yes men and weirdos like y'all," she said. "I never spoke up, cause I didn't feel it was my place but hearing y'all say she's lying I can't just sit by and watch this. I even got into it with Chris because his loud ass used 2 wake up my daughter.
He was rude as fuck & I had known him since he was a kid. The point is, stop defending these assholes and always blaming the woman. It's sad & sick, & is why women don't speak out.
Women literally get murdered by men who act like this and y'all thing it's cute or she just wants attention gtfoh. I'm a mother, I've been through a lot, trolls on the Internet will never stop me from speaking out on justice and the truth.
I don't regret sticking up for Karrueche or telling the truth. Whatever comes with it. I stand for what's right at all times. Y'all wonder why celebs get away with so much, because of weirdos like u putting them on a pedestal letting them get away with this crap.
If you're really a Chris Brown fan u would want him to get help, not make excuses for everything he does. That's real love. Self love. Love yourself first, so that you can properly love and be loved."
After being questioned by a Brown fan about why she's choosing to speak up now, she posted on Instagram that it was because it wasn't her place to say, but now that Karrueche has left him, she can speak on it.
— TheLucidDreamQueen (@KayCola) February 21, 2017
Some of y'all make me sick to my stomach talking about. Karrueches lying. I've heard him beating her myself. I even called the police:

— TheLucidDreamQueen (@KayCola) February 21, 2017
I used to cry over that situation hearing her screaming at the top of her lungs because i am also a victim of domestic violence

— TheLucidDreamQueen (@KayCola) February 21, 2017
Some of y'all are so delusional defending this man! It's sick! He will never get help or change because of yes man and weirdos like y'all

— TheLucidDreamQueen (@KayCola) February 21, 2017
I never spoke up, cause I didn't feel it was my place but hearing y'all say she's lying I can't just sit by and watch this

— TheLucidDreamQueen (@KayCola) February 21, 2017
I even got into it with Chris because his loud ass used 2 wake up my daughter. He was rude as fuck & I had known him since he was a kid

— TheLucidDreamQueen (@KayCola) February 21, 2017
The point is, stop defending these assholes and always blaming the woman. It's sad & sick, & is why women don't speak out

— TheLucidDreamQueen (@KayCola) February 21, 2017
Women literally get murdered by men who act like this and y'all thing it's cute or she just wants attention gtfoh

— TheLucidDreamQueen (@KayCola) February 21, 2017
I'm a mother, I've been through a lot, trolls on the Internet will never stop me from speaking out on justice and the truth.

— TheLucidDreamQueen (@KayCola) February 21, 2017
I don't regret sticking up for Karrueche or telling the truth. Whatever comes with it. I stand for what's right at all times

— TheLucidDreamQueen (@KayCola) February 21, 2017
Y'all wonder why celebs get away with so much, because of weirdos like u putting them on a pedestal letting them get away with this crap

— TheLucidDreamQueen (@KayCola) February 21, 2017
If you're really a Chris Brown fan u would want him to get help, not make excuses for everything he does. That's real love.

— TheLucidDreamQueen (@KayCola) February 21, 2017