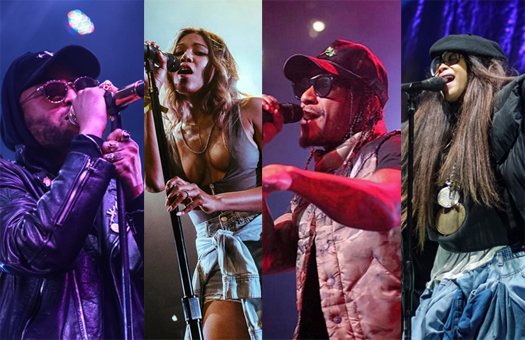 When the flyer for the inaugural SOULQUARIUS Festival in Santa Ana, California dropped in late 2016, R&B lovers everywhere went crazy over the line-up of scheduled performers.  From throwback artists like Jon B. and DMX to current R&B tastemakers such as Ro James, Jhené Aiko, and BJ The Chicago Kid, there was no denying that this event was guaranteed to be a lituation.
Fear of getting rained out and continuous flooding from California's big storm may have had most on edge but, that didn't stop ticket holders from coming out in droves to get a taste of what their favorite performers have to offer. Of course, there were a few mishaps along the way (like any huge festival has during their opening year), but SOULQUARIUS — aside from its massive lineup — has plenty of reasons why it should be the R&B festival that you don't want to miss from here on out.
Delivering a jammed packed mash-up of lovable R&B artists and a few of rap's most influential, SOULQUARIUS made sure to leave festival enthusiasts with a need to get their coins up for next year.

Though the opening of the gates was delayed by two hours, once fans got in, there was no turning back. While there were acts that took the stage to open up the show, it was one of R&B's most anticipated returns that took the crowd to a new level when he took the stage. Lloyd, who has been on a complete high since the release of his latest EP Tru, took over the stage and set us up for what was sure to be an incredible night. Singing his many classic hits and a few new tunes that are on the list to become favorites, if you've never had the chance to see Lloyd set the stage on fire, this was one time you would want to be there.
Falling in line with the adrenaline rushing performance from the curly headed black boy, one of R&B's newest saviors, Ro James, took the inside Observatory Stage and turned it into an automatic love scene. Flexing his vocals on an acoustic version of "Permission" and a live band backed version of "Already Knew That," there just wasn't enough time to get into the groove that Ro divvied out. Much like the New York native, his fellow recent Grammy nominee BJ The Chicago Kid delivered a performance like none other for the crowd with favorites from his breakout debut album In My Mind, including the seductive "Love Inside" and groovy "Turnin' Me Up," where he brought Ro James back on stage for a quick salute.
While we were definitely here for them and all of today's new artists, there was one act that really set the night off for us and that was the fellas of Pretty Ricky. Literally packing out the event with fans, the Florida natives had everyone singing their discography loud and proud. From "Playhouse" and "Hotline" to "My Body" and "Nothin' But A Number," the group — which found fame in the early 2000s — brought the bump, grind, and slide to the night and left no room to regret showing up for this nostalgic performance.
Though not an R&B act, legendary rapper DMX delivered a performance that made fans run to and in true X form, giving the crowd his all in every line he spit. Following suit was Ja Rule who did a combined and noteworthy set with Ashanti covering all the hits that would've made you wish you could relive your early 2000s life. Also bringing Lloyd out to perform the hit "Southside," this was one set that surely made the night so special.
Also taking their turn to turn the crowd out throughout the event prior to the closing acts were Willow Smith, Monica, The-Dream, Eric Bellinger, The Internet, Kelis, Ameriie, and Mya.
As the night came to a close and the temperatures began to drop, fans were left standing either outside waiting on the Pied Piper of R&B or inside The Observatory for Brandy to perform their slew of hits after the scheduled ending time of 11:00 p.m. Sure, the concert went over by an hour or so, but waiting to see Brandy slay the crowd with her charismatic stage presence and animated moves, was enough to keep you out well past your bedtime. And, of course, in true R. Kelly fashion, excellence was signed, sealed and delivered to everyone blessed enough to hear him crank out his legendary catalog of hits without missing one note.
Ultimately, SOULQUARIUS has the potential to be one of the most anticipated, packed out, and jam worthy R&B festivals around with time and we can't wait to see what next year's event will hold. After setting the bar with noteworthy performances and one of the best lineups that we've seen in awhile, our 2017 R&B Jam officially goes to the SOULQUARIUS Festival.
–Words by Ni'Kesia Pannell