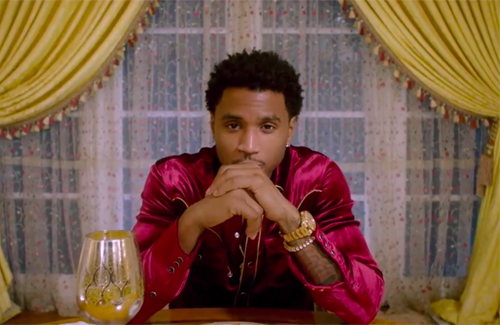 Trey Songz is back with the second release from his "Tremaine the Playboy" series, and forthcoming new album Tremaine.
As he plans to do each week, the R&B heartthrob has released a visual for the song from the latest episode in his "dating" show.  Aptly titled, "Playboy," the sexy slow jam finds Trigga questioning his lifestyle, and why he hasn't settled down yet.
"Don't know why I'm still kissing girls that I don't love / Still stumbling out of these clubs / Still I'm just so hard to trust / Don't know why I'm still a playboy," he sings while dining with the cast of beautiful girls. "So many girls that I can't count," he later sings while taking a bubble bath with the Kelly twins.
During his recent interview with "The Breakfast Club," Trey revealed that the show was never intended to be taken as a real life dating show, but a way to market his new music in a clever manner. Each week, Songz will release a new song off his next album Tremaine (due out March 24), along with an episode of "Tremaine the Playboy."
Check out his new one below.