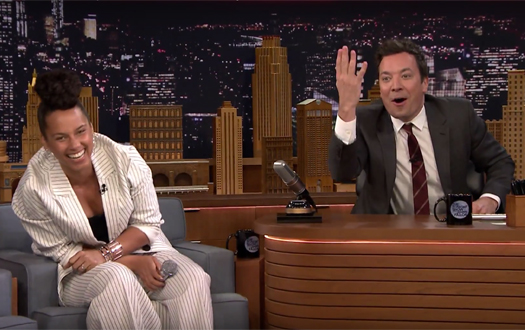 Alicia Keys paid a visit to "The Tonight Show" on Tuesday night in promotion of the new season of NBC's "The Voice."
Following her interview, Jimmy challenged Alicia to the now famed game "Wheel of Musical Impressions" where she sang "Miss Mary Mack" like Gwen Stefani, "The Alphabet Song" like Adele, and "Twinkle Twinkle Little Star" like Janis Joplin.
Prior to the hilarious performances, the singer spoke about her son Egypt's musical gifts and revealed that he is now telling her that other people sing better than her (
). Additionally, she spoke about the new season of "The Voice," and asking Prince's permission to cover "How Come You Don't Call Me."
Check out Alicia's visit to "The Tonight Show" below.