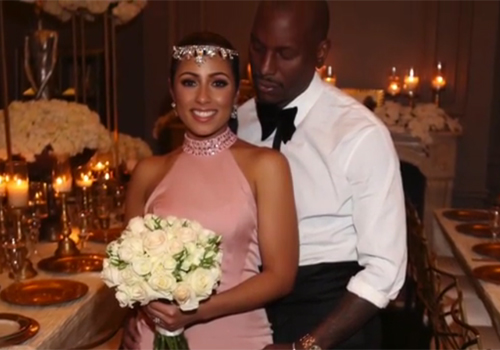 Ladies, Tyrese is officially off the market.
In a surprising announcement on Tuesday evening (Feb. 28), the singer/actor revealed that he and a previously unknown fiancé said their "I do's" on Valentine's Day.
Sharing 3 posts on Instagram to his over 7M followers, the multi-talented star first shared a photo from an older post of his at home spa, which he claims he built for his future wife, and in the post he shared his prayer to God to bring him a "classy, sophisticated women with an angel heart" to be his wife.
The second post was his big reveal with a short video compilation of photos from the wedding day and personal messages. "Mark 10:8 And the two will become #OneFlesh Mr & Mrs Gibson… #MyBlackQueen #GrownManSeason," he wrote with the video.
The third post is a close up of his wife's engagement ring and wedding band, with a longer message about love.
"So many people give a lot of power to The Ring as a man I had to wait till I truly truly felt like my WORDS and my FEET would walk in the same direction as my HEART," he wrote. "Not to worry I won't be updating you guys on every detail and every aspect of our life. We tried to keep this all a secret and it somehow got out there so we just wanted to share the blessed news ourselves… Our way."
BIG CONGRATS TO TYRESE AND HIS WIFE.