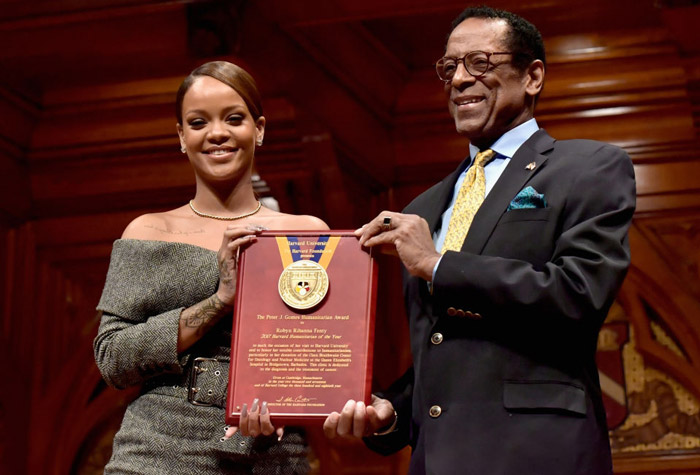 "So, I made it to Harvard. Never thought I'd be able to say that in my life, but it feels good." – Rihanna.
The heavy feelings of honorable accomplishments ran through the halls of one of America's greatest institutions on Tuesday (Feb. 28), as international superstar Rihanna was presented with Harvard University's 2017 Humanitarian of the Year award.
As the echoing cheers and encouragement from fans in the auditorium changed to attentive listening, RiRi smiled as she explained to the Cambridge audience that she never actually wanted this type of credit for her humanitarian work. "I'm incredibly humbled by this," she said. "To be acknowledged at this magnitude, for something that, in truth, I've never wanted credit for."
She went on to reveal that as a child she yearned to help other children from around the world while watching charity ads on television. At the time, she thought she had to be rich to make a difference. Now, she realizes that humanitarian efforts aren't exclusive to the wealthy or famous.

"We're all human. We all just want a chance, a chance at life, a chance at an education, a chance at a future," she said. "At CLF [Clara Lionel Foundation], our mission is to impact as many lives as possible, but it starts with just one. Just one. As I stare out into this beautiful room, I see optimism, I see hope, I see the future. I know that each and every one of you has the opportunity to help someone else. All you need to do is help one person, expecting nothing in return. To me, that is a humanitarian."
To end the ceremony, a young child presented her with flowers. "Rihanna, we thank you for your compassion, your philanthropy to help others in need, and your wonderful music," he said. "On behalf of the children of Cambridge, I present you these flowers as a token of our appreciation."  Taking the flowers, a smiling RiRi kissed the young man on the cheek.