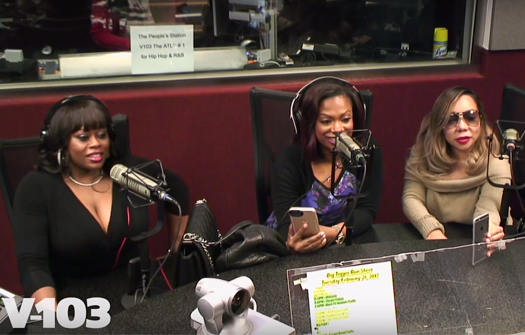 Well look at God.
It has been nearly 20 years since 90s girl group Xscape released their last album, Traces of My Lipstick, but on Tuesday (Feb. 28) all four original members made the announcement, during an interview with Big Tigger on Atlanta's V-103, that they have reunited and will be making a comeback.
Kandi Burruss told Tigger that watching The New Edition Story on BET caused her to reflect on their legacy as a group and sparked the conversation to make an official comeback. The 3 other members, Tamika Scott, Tameka "Tiny" Cottle, and LaTocha Scott shared their personal feelings on reuniting, what caused their separation, and what they are looking forward to most.

Kandi also shared why she had bad blood for all these years with Tamika, who has publicly spread a rumor that Kandi has slept with Jermaine Dupri's father, music executive Michael Mauldin. The two ladies finally met face to face and cleared up the beef, letting bygones by bygones.
"It was emotional, but then we had a real conversation, which we haven't had in a long time," she said. "I was able to let it go after that."
Tamika added: "Now, we grown. We gon' let the bygones be bygones. It's the last time you will hear this. Anything after this is going to be our legacy and what we doing next."
The group is reunited, but nothing new has been confirmed. "We've been approached about a lot of different opportunities," said Kandi. "I don't like to confirm anything until the ink dries, but I definitely can say that I am looking forward to performing again with my group members."
LaTocha, who was live on the phone from Los Angeles added, "We definitely have different offers on the table. We're just taking our time to make sure that we have everything right and in order, but you guys will see us perform again. That's for sure."
Xscape rose to prominence in the early 1990s with the release of their debut album Hummin' Comin' at 'Cha (So So Def 1993). Between the years '93 and '98 the Atlanta natives released three platinum albums, and 6 top 10 hit singles on the Billboard Hot 100, including "Just Kickin' It," "Who Can I Run To," "The Arms of the One Who Loves You," and "My Little Secret."
Are you excited for Xscape to continue their legacy?