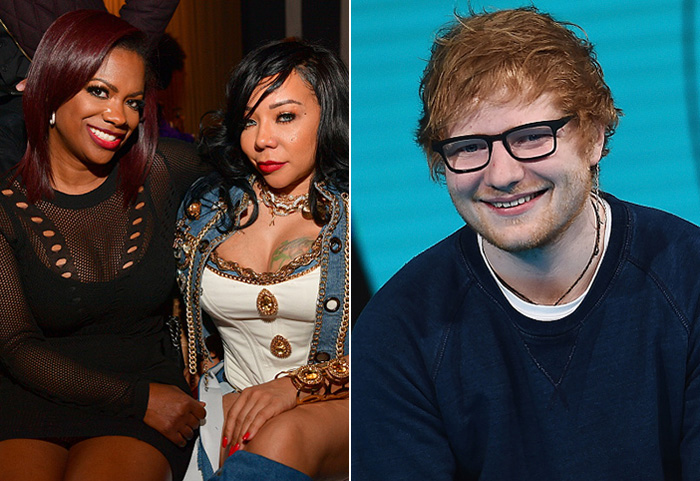 Xscape is winning this year!
Only recently the ladies of the '90s powerhouse girl group announced their reunion after 18 years, which fans everywhere were surprised and excited to hear. While, we await more news on what their plans will be, two of the leading members, Kandi Burruss and Tameka "Tiny" Harris, are about to get a nice unexpected check from Ed Sheeran!
The superstar singer-songwriter has given them writing credit on his No. 1 single "Shape of You," for containing a similar melody to their writing on TLC's popular single "No Scrubs."
Some critics stated that the song's pre-chorus, which goes: "Girl, you know I want your love / Your love was handmade for somebody like me," sounded similar to TLC's classic: "No, I don't want no scrubs / A scrub is a guy that can't get no love from me."
Following the backlash, Kandi and Tiny, have been credited, alongside another co-writer, Kevin "She'kspere" Briggs, according to Billboard.

Kandi celebrated the news on Instagram, congratulating Ed for his No. 1 and thanking him for the credit. "Congrats #edsheeran @teddysphotos for having the #1 album! & thank you for allowing @majorgirl & I to share in the success of #ShapeOfYou! #1 for 7 weeks," she wrote. "This is how I dance every time this song comes on. #ShapeOfYou #Blessings."
Tiny also shared the news on Instagram. "Ayeeee! Ed Sheeran 'Shape Of You' Blessed," she wrote.
"Shape of You" is a lead single off Sheeran's latest album ÷. Now, it marks Tiny's second Hot 100 No. 1 after "No Scrubs." Meanwhile, it's Kandi's third, since she also co-wrote Destiny's Child's "Bills, Bills, Bills."