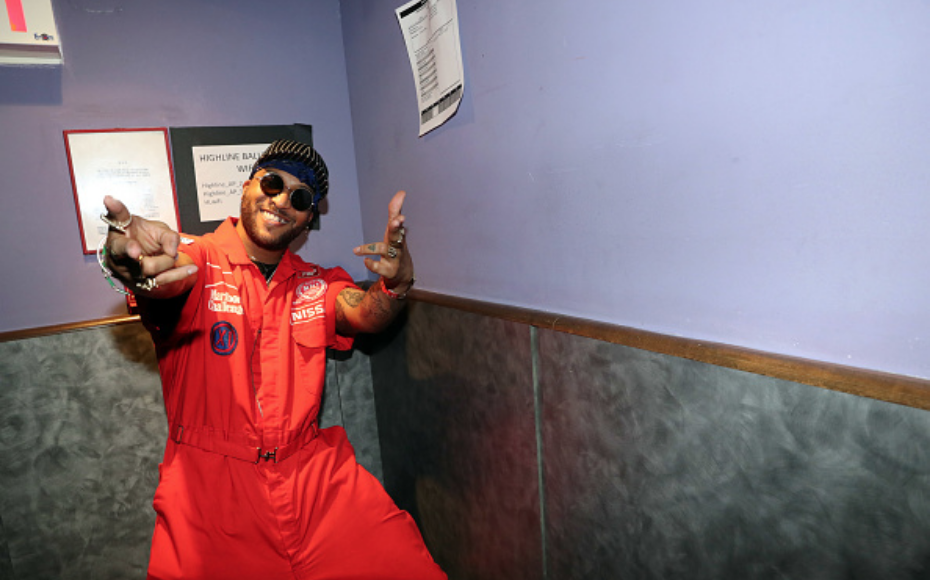 His neon signature superimposed over an XIX sign marks the first signal that singer Ro James is ready to grace the stage of New York City's Highline Ballroom on Tuesday night (Feb. 28). As part of his headlining "XIX Tour," this performance is one of many for the down-to- earth R&B newcomer. But this show is a bit different. Ro James is home.
With passionate fans huddled around the stage James emerges and begins to talk about his origins in Germany, then his move to New York, before his father's military career carried him across the country. Summers with his mother's family in Jamaica, Queens, however, were a constant during his youth. He's glad he's back, as are his impassioned fans, who cheer as he starts into his first song.

He's dressed in a bright red jumpsuit, reminiscent of a car mechanic's uniform and a blue and white silk scarf tied around his head. With a few chains hanging from his neck and an un-manicured beard, Ro James appears unassuming. The confidence resonating through his voice, however, is well warranted. He effortlessly glides through a subdued version of the entrancing "Everything" off of his debut album Eldorado. Then things take a more serious turn. James explains that he's experienced some struggles, but he's learned a lot on his journey. An emotional rendition of "Holy Water" is not only a reflection of his religious upbringing, it's a testament to his growth.
While the release of Eldorado has led to a Grammy nomination and his first headlining tour,
James eyes light up as he begins to talk about his real introduction to R&B fans, the Coke, Jack, and Cadillacs EP series.  The crowd is just as animated, audibly excited as he announces "I met this girl at the bar, her name was Lisa…" James demeanor quickly shifts to that of a man proud of his prowess as he boldly accentuates the raunchy lyrics to his Asher Roth collaboration, "Lisa."  By the time he segues into "A.D.I.D.A.S" James is in full sex symbol mode. As he approaches the show's sweet spot, piano man to his left and guitarist to his right, James introduces an "amazing song about all you women out there." He smiles as he continues, "you gotta always ask her for her permission, always gotta get the green light." Fans squeal at the intoxicating opening guitar riff before James delves into "Permission," his biggest hit to date.
Then, with the crowd at full attention, he begins to get sentimental when describing just what
this XIX tour means to him. "XIX is only the beginning," he explains before he triumphantly
performs the first half of "Last Cigarette" as his final offering before loosening his grip on the gold stemmed microphone.
Before long, he's off the stage standing before emotional fans who surround him in hopes of a hug, picture, or opportunity to express their support. Eyes low and stance relaxed, James willingly takes the time to embrace adoring fans with a comfort and ease that feels like he's in the company of friends or family. Indeed, Ro James is home.
–Written by Shaira B.
(Photo by Johnny Nunez / Wire Image)