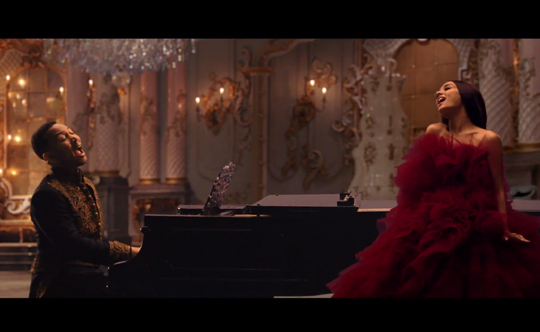 Ariana Grande and John Legend bring their remake of Disney's "Beauty and the Beast" to life in the gorgeous CGI music video directed by Dave Meyers.
Twenty-six years since the original, the singers were united to recreate the Celine Dion and Peabo Bryson 1991 version for the live-action film adaptation of Disney's animated classic.
Staring out her castle window, Grande looks stunning in a flowing red gown as she belts out the iconic lyrics, "Tale as old as time / True as it can be / Barely even friends / Then somebody bends, unexpectedly."
John makes his appearance at the grand piano as red cloaked dancers perform choreographed moves around Ari. Scenes from the new film are interspersed between their performance as they sing for Belle and the Beast, while large sparklers go off inside the lavish castle ballroom.
The Beauty and the Beast soundtrack, which includes contributions from Dion, Alan Menken, and Tim Rice, will be released on March 10, while the film, starring Emma Watson, Dan Stevens, and Ewan McGregor, hits theaters on March 17.
See the music video below.