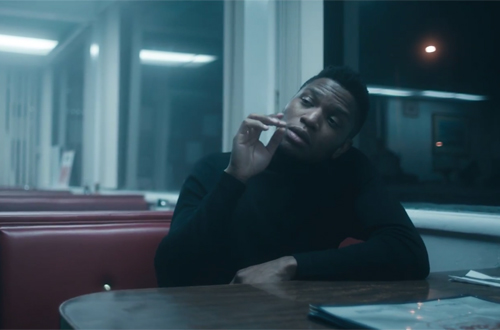 Gallant hopes you haven't forgotten about him. The Red Bull Sound Select alum is still riding the wave from his Grammy-nominated debut album, Ology.  In spite of not taking home a golden gramophone on 'musics biggest night,' the nomination introduced the crooner to an entirely new audience. Today, Gallant goes back to Ology to drop off a visual for the LP's intro track, "Talking to Myself."
In the four-minute music video, director Sasha Samsonova bounces between images of Gallant alone in an abandoned diner, and of a woman alone in her bedroom writhing in ecstasy. "I've been slowly loosening my grip on this reality," he croons, and that idea of "losing your mind" seems to grip both figures.
Gallant serenades the shadows in the diner, for example, while the woman touches herself and lets lust take over. Whether that's the effect of the singer's smooth falsetto or merely her falling prey to her own desires, only the viewer can decide. And for those who still don't know Gallant, the "Talking to Myself" video serves a perfect introduction.
The singer/songwriter is set to hit the road from April through June on tour with John Legend. Watch Gallant's "Talking to Myself" video below.
–Words by Bradford Howard