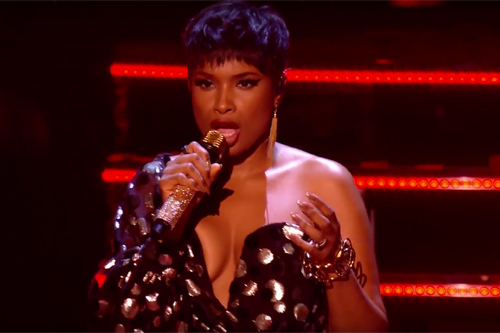 Jennifer Hudson brought her singing competition experience to "The Voice UK" audience on Sunday night (March 5), making her live debut performance of her comeback single "Remember Me."
The Oscar and Grammy Award winner illuminated the venue with bright red lights and graphics like rose petals which fell through large projector screens. Wearing a low cut shimmering dress, JHUD made her way down stairs into the center of the stage where a crew of male dancers circled around her as she belted out the powerful single.
"As an artist, when I discover music that I connect with deeply, it brings me a sense of excitement that I can't put into words," Jennifer previously said about the new single. "That's how I feel about 'Remember Me.' Everything about it is special – from co-writing it with Jamie [Hartman], to the recording process, to how it made me feel along the way. I just can't wait to share it with the world."
Hudson, who released an album called I Remember Me in 2011, has been working with L.A. Reid and executive producer Clive Davis on her fourth studio album, and first for Epic Records.
Watch her commanding performance on "The Voice UK" below.