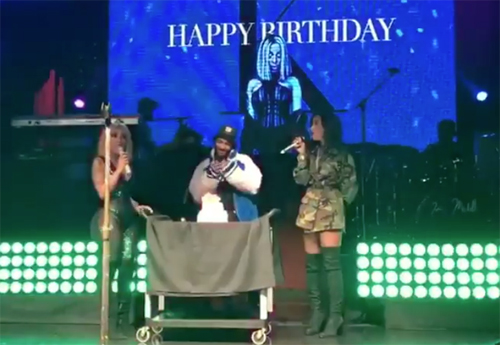 K. Michelle celebrated her 33rd birthday on Saturday (March 4), and the songstress received a surprise from two of her friends and fellow R&B artists.
Performing a special birthday show at The Fillmore in Silver Spring, Maryland, K was surprised on stage by her pals, Sevyn Streeter and Ro James, who presented the Memphis native with a cake and special birthday song.
"Wow. I've cried all day!!! My friends really came out to support. We are the new R&B! Love y'all! @sevyn and @rojamesxix," wrote K. Michelle on Instagram.
"This woman right here, she is one of the most genuine people you will ever meet," Sevyn told the crowd. "From the moment that I met K. Michelle, she welcomed me with open arms on her tour, when you didn't have to."
"Me too," added Ro.
"All my wishes have come true," shared K. Michelle. "I have good friends, I have my career, I have great fans. My son is good, my family is good, and I get to live my dreams."
Backstage the three embraced again, while Ro sang to K, she exclaimed, "We are R&B muthaf**ka."
K. Michelle is currently doing spot dates while she finishes up her anticipated fourth album. Sevyn Streeter recently wrapped up her "Girl Disrupted Tour" while she preps for the release of her debut album this year, and Ro James is currently on his headlining "XIX Tour," and tonight he is up for Best New R&B Artist at the 2017 iHeartRadio Music Awards.
Check out the footage below.