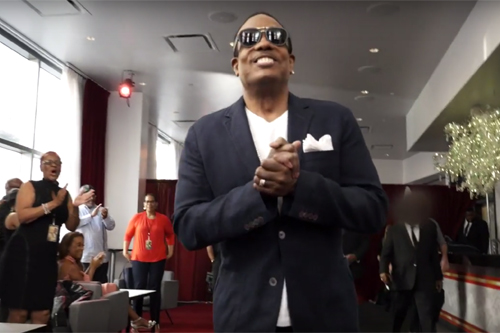 Charlie Wilson keeps the blessings going with a special video for his In It To Win It No. 1 single, "I'm Blessed."
Filmed during his recent headlining tour in support of the In It to Win It album, the visuals feature Uncle Charlie explaining his inspiration behind the song, and the simple honor of being able to know he is blessed for many reasons–one of which is his fans.
In short interview clips, fans of different ages share their own blessings and admiration for Charlie, and there are even cameos from Martin Lawrence, Johnny Gill, Jim Brown, Trombone Shorty, and T.I.–who is featured on the song.
"When you are as blessed as I have been, you want to share those blessings," Wilson tells PEOPLE. "The idea for the video was to capture one of my biggest blessings, my fans, and be able to share my music and story with them. I wanted to give them the opportunity to share their blessings on camera."
He continues: "The world is changing daily and people are going through tough times but it's important to focus on the blessings we are given in life."
During his chat with PEOPLE, Charlie also shared his support and respect for none other than Bruno Mars, who himself has been inspired by iconic performers like Uncle Charlie.
"A young man who is doing his thing right now is Bruno Mars," he says. "He makes the type of music that is true to his heart and he's a great entertainer. He's bridging the gap between old school and new school. He and I are cut from the same cloth as far as work ethic, talent, creativity and wanting to give it all to his fans when he performs."
He adds of Mars: "I remember he said to me, 'Charlie, I just like to perform, give me a stage and I'm going to give it my all. If I have a bunch of lights and production and bells and whistles that's just a bonus to me, but I'm good either way.'"
As someone who has a career in R&B music that spans across decades, and recently saw "I'm Blessed" reach No. 1 on the Urban Adult Contemporary charts, Wilson is hopeful for the future of the genre he made his name in.
"The future of R&B is alive and thriving," he says. "I'd like to think I'm proof of that as I continue to release new music and sell out tours. If your passion is to create and record R&B music, you must be true to the art form. Young artists are putting their own spin on R&B, and I think it's great to see it continue to evolve and take on new life."