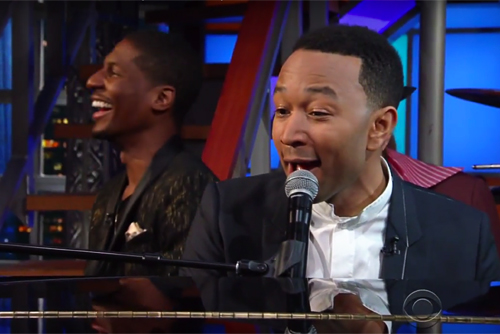 John Legend was a special guest on 'The Late Show with Stephen Colbert' on Tuesday night (Apr. 25). As a friend and frequent guest on Colbert's previous show, The Colbert Report, the two have had a long relationship.
The R&B crooner was on the show to perform his latest single "Sure Fire," but he also sat down for an interview with Stephen where they discussed fatherhood, his cover and feature in 'Time' magazine's latest "100 Most Influential People" issue, and his latest album Darkness and Light.
Before hitting the stage for his performance of "Sure Fire," he joined the house band for a special segment called, 'John Legend Makes Mundane Things Sound Sexy,' where he sang about shopping at Costco and doing laundry.
Check out his interview and performance below.