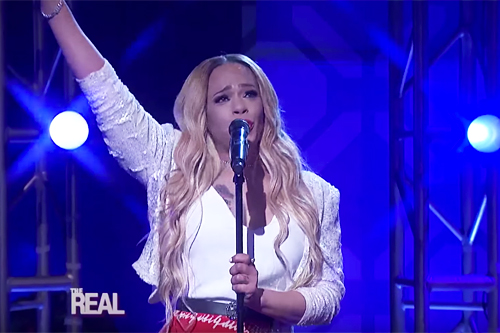 On Wednesday (May 10), Faith Evans made an appearance on "The REAL" talk show to chat with the ladies and give a special performance.
The Grammy Award-winner sat down with the divas of daytime to talk about her upcoming duets album, The King & I, with her late husband and hip hop legend, The Notorious B.I.G.  During the conversation she also touched on the night BIG was murdered, and the extremely heartfelt performance of their hit tribute song, "I'll Be Missing You" at the 1997 MTV Music Awards. Faith revealed that she was so emotional at the time and did not want to do the performance at first, but Puffy convinced her she had to be apart of it.
Later on, Faith took "The REAL" stage to perform her recently released single from the album, "Legacy," which she released last month with a video filmed in Biggie's old Brooklyn neighborhood.
Check out Faith's interview and performance below.