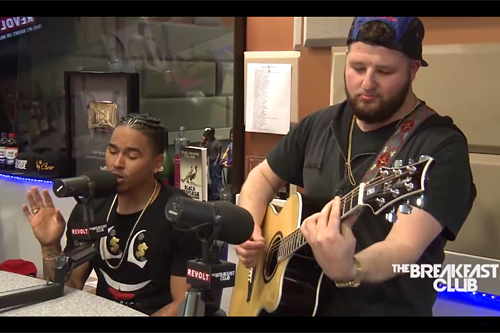 Adrian Marcel gets open in one of his most honest interviews yet.
The R&B singer recently stopped by Power 105.1 in New York City to speak with Angela, Charlamagne and Envy about the release of his debut album, GMFU (Got Me Fucked Up).
As fans know, the project has been a long time in the making, and the Oakland native basically had to part ways with his label (Republic Records) to finally release the album on his terms. During their conversation, Marcel shared some personal and inside information on the music industry. He talked about the ways the label was trying to control and persuade him to do things that weren't his choices, and then not fully backing them when the time was right.
Adrian also shared some of the insight that his mentor, music legend Raphael Saadiq, gave to him when he first signed his record deal. Additionally, he spoke about the album title, putting it together, and how he has been touching fans personally to promote it.
Furthermore, he touched on his family upbringing, celebrating his African American roots, feelings on the Warriors winning the NBA Championship again, and more.
To close out his visit, Adrian gave 'The Breakfast Club' a rare live acoustic performance of his sultry song, "No Limit."
Check out the interview and performance below.