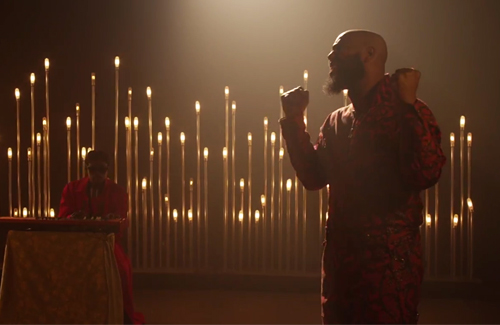 Louis York (a.k.a. Chuck Harmony & Claude Kelly) continue to use their art to promote social issues featured in today's headlines, as they release the official video for their song, "Nerds." The track, which was featured on their debut EP, Masterpiece Theater-Act I, kicks off as a self-esteem-boosting '80s rock/power ballad, and delves into a politically thought-provoking anthem that questions the ways of the world.
"Nerds isn't just a song, it's a call to action. We had to make sure the visual was equally as powerful," says lead singer Claude Kelly. "We all feel a little nerdy at times and it helps to have a song that reminds you that you are okay being who you are. Standing up for what you believe in can be scary and this video let's all the weirdos know that we are right there with them, wondering if we're making our heroes proud and trying to figure out how to be better for ourselves and the world."
Chuck Harmony adds, "We are actively trying to establish ourselves as intelligent musicians who can approach art creation in a way that's not only commercially viable but that can also serve as a voice that speaks to the cares and concerns facing humanity."
Known as a multi-Grammy nominated production and songwriting team for artists like Rihanna, Britney Spears, Bruno Mars, Ne-Yo, Fantasia and icons like Whitney Houston, Janet Jackson and Celine Dion, the duo strongly believes that music can be used as a "change agent" to help educate and inspire in the same vein as their predecessors Michael Jackson, Stevie Wonder and Marvin Gaye. Previously, they released the video "Hipsters" off their current EP Masterpiece Theater-Act II, that dealt with self-esteem, individuality, and bullying.
This past spring, Louis York gave ThisisRnB a special acoustic performance for our ThisisRnB Sessions series, where they shared special, revamped live versions of tracks off both their EPs. Watch it here.