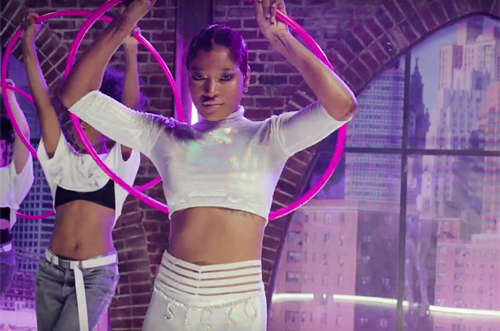 Line up, Keke Palmer is here to slay.
The talented artist/actress has debuted the dance-heavy music video for her bouncy new single "Wind Up" featuring Quavo (of Migos).
Opening with a performance setting in front of an audience, Keke and her troupe deliver vicious choreographed moves, as she flexes some commanding lyrics about bossing up.
Palmer also addresses her own rise to success, letting any haters know they can leave that mess at the door.
"All the way to California in the caravan / It was me and my momma, my muthafuckin' fam / From the gutta / So you mad that I came up?," she raps. "Wind up / Tell them old bitches line up, line up / 'Fore I put her in a grinder, grinder / All my boss bitches wind up, wind up."
Quavo appears through a digitalized effect adding two verses on which he brags about his new girl. "She don't do this often / But she know it's poppin' / I'm going to find her / Found her on an island / She looks like she's from China / Her best friend's a stylist," he raps.
Later, Keke dances in front of her name in lights, and shows off her skills with a hula hoop.
Last year, Palmer dropped her deeply personal EP Lauren. Now, she's prepping her new album, along with more film projects.
"Wind Up" with Keke and Quavo below.