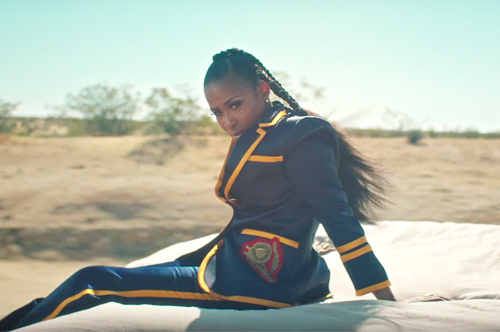 DeJ Loaf is fully embracing her R&B/pop side with her brand new single "No Fear."
Today (June 28), the Detroit bred rapper/singer has premiered the single's official music video, directed by Rubberband. The visuals open up with Loaf daydreaming in her bedroom while listening to her breakout hit "Try Me." From there, her bed breaks away from her room and onto a desert highway.
While gliding on the road, the camera pans into her ear, disappearing into a childhood dream world filled with butterflies. DeJ ends the video in all white, with clones of herself happily dancing around.
The video is meant to mirror feelings from her childhood. "Growing up, I used to daydream in my bedroom about everything from love to my career to traveling the world," she explains. "The video sort of reflects that joyful feeling of going from daydreaming to realizing my dreams. My new album is a personal journey and I hope my fans enjoying riding along with me."
"No Fear" is the first single from DeJ's upcoming album Liberated.
Check out the video below.