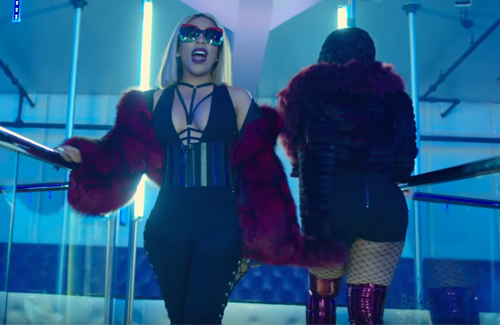 Trina and K. Michelle fight back in the video for their brand new collaborative single, "If It Ain't Me."
The sexy R&B/Rap song is the latest single off Trina's forthcoming album. In the Michael Garcia-directed video, the female rap star's boyfriend (played by Dave East) isn't remaining faithful when he's out of town. The rapper is seen getting way too cozy with dancers at a strip club.
"Who you lovin' when I go out on the tour? / Bring back a check, I bet that bitch is such a bore," raps Trina. "Who you lovin', who you wanna be f***in'? / I got ni**a groupies at me, but my vibrator buzzin'."
K. Michelle shows up as the ride-or-die best friend, helping Trina through the heartache. "Somebody loves ya baby / And you know who it is, you know who it is / If it ain't me then who?," sings K.
She also adds the third verse addressing a petty dude who she left in the dust. "No more love, I'm wasted / Jack Daniels my baby / Pour it in my cup, forgot about you already," she sings. "Ain't no coming back to this / I just packed up my sh*t / Petty ni**as is the worst / I ain't got time to be hurt."
Check out the new video below.